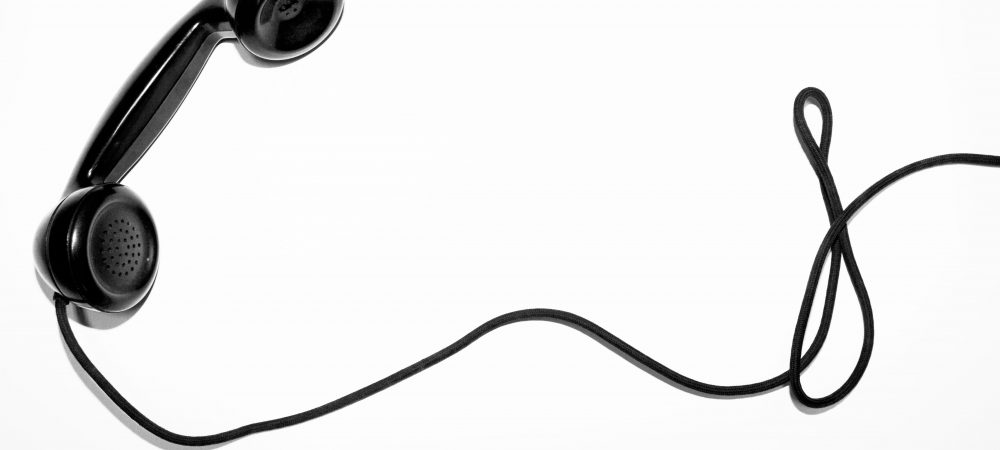 So here you are: you own or work for an HVAC company and are looking for ways to generate more business and increase profits. Especially now, in times of crisis.
In today's blog post I'll present you three fundamental principles that will help you generate more leads for your HVAC business. I will also provide you with a real-life Case Study on how an HVAC company owner got 58 leads and closed 23 of them with one sales rep with no prior HVAC sales experience, totaling $285,000 in sales, all in 60 days!!
By the way, this system is suitable for most home service companies. So if you have a Plumbing company, you own an Electrician, Cleaning, Lawn Care and Landscaping business, you might want to read further.
Be intentional about it
If you want to grow your HVAC business you need to make more sales. Period. And you do that by feeding the sales machine with more and more leads.
Clients won't just show up to your shop to ask for help and you won't just get calls after calls out of nowhere. This is why you've put your number on your truck, right? This is why you leave some sort of marketing materials at the job site, be it stickers, business cards, flyers, magnets or anything you might leave for your customers to remember you (hopefully not your tools). But you have to get past that.
To survive in today's business environment, to really grow your HVAC company, you need to step up your lead generation game. You need to be intentional about it and constantly working and directing your time and resources for this single goal.
Make it a number
Your values are your North star but you need money to build and maintain your ship and keep those aboard happy. Besides sales, make the number of leads one of your KPIs. The Key Performance Indicator (KPI in short) is a metric that reflects the current performance of an individual, department or company.
To determine what is the minimum number of leads that you need each month you have to look at your monthly expenses, your average ticket size, and your current closing rate.
If you are interested not only in breaking even but in growing your profits you should look at your sales goal, current closing rate, and average closing deal/ticket.
You know what your closing rate is, right? You calculate the closing rate by dividing the number of customers in a specific period to the number of calls/inquiries in the same time frame. For example, let's say that your HVAC company had 10 projects last month. You've got 20 calls in that period, so you divide 10 to 20 and get 0.5 which means you have a 50% closing rate. This means that 50% or 1 in 2 of prospects are turned into paying customers.
Similarly, you calculate the average ticket by dividing your revenue to the number of individual sales. So let's say that for the 10 projects you've got last month you grossed $100,000. That means that your average ticket is $10,000.
Now that you have your closing rate and your average ticket size all you have to do is to divide your Sales Goal (Desired Sales) to the Average ticket size times the Closing rate (see formula below).

So if you want to increase sales to let's say $200,000 a month, with an average ticket of $10,000 and a 50% closing rate you would need 40 leads.
You need to break down your sales numbers and set specific KPIs for each variable. In this way, you are not just hoping for something to happen but proactively working against your goals.
To make it all easier for you, we made a simple Google Spreadsheet Calculator with all the above formulas that you can copy and use for free.
Create a system
A good business is a systemized business. You need to have procedures, tools, and training in place in order to scale your business. You don't want to invent the wheel every single day. It gets pricey and will surely generate a good amount of frustration over time. In short, it's not worth it.
It's true, in the beginning, you will have to test different strategies maybe every day, but once you get to a formula that produces consistent, positive results you should rinse and repeat until it's not working anymore.
Employ technology in your lead generation process
Implementing a lead generation system is more affordable than ever. Sure, you have to get access to the right information and take the right decision about what to implement, but unlike 20 or even 10 years ago today there is a lot of information available that would help you implement the best leads generation system for your business. This material is proof of that.
There are a lot of technologies for lead generation and a lot of channels where you can communicate your message, but let me tell you something:
Great leads come from great marketing!
Also Read: Can Field Service Companies Work Remotely?
While having a good lead capturing system is important, if your message does not attract eyeballs it's going to generate you neither new leads or new sales.
But don't think only at the visual part of your marketing. Great marketing is positioned in the perfect context, in the right channel, at the right time.
There are a lot of moving parts involved in creating a lead generation strategy that works. This, and the fact that the world is constantly changing, is the reason why you should always test and test new scenarios and strategies.
Let's look at a real-life case study.
A real-life case study
I will begin by saying that I can not guarantee you that this exact strategy and setup will work for you, much less about the dollars that would be generated using a similar approach.
So we have this gentleman that claims he just closed $285k worth of HVAC services, in 60 days, with a rookie sales guy. Sounds cheesy, right?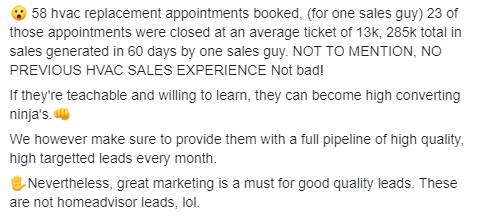 This is the actual message that he posted on Facebook.
We decided to investigate this story and de-construct the system used to achieve these results. So here's what we've found:
They are using 2 types of assets:
Social media
They used social media, specifically Facebook, as the channel that carried their message.
Facebook Page
They had a professional Facebook page in place, with all the info a customer would ask for (name, description, location, type of services, price range, business hours, telephone number, website, all of it).
They used to post regularly and most of their posts were pictures of actual customers sitting near a newly installed air conditioning unit.
This is their foundation.
Facebook Ads
Then, they created a series of advertisements on Facebook that targeted homeowners in specific locations. They might as well have used other targeting options besides these.
Some of these ads, like the ones pictured below, were made using Lead Ads on Facebook. This type of ad allows you to capture email addresses and other contact details like the address and phone number directly on Facebook. This makes it more convenient for the prospects as it does not require them to leave the app, and thus increasing the percentage of prospects that become qualified leads.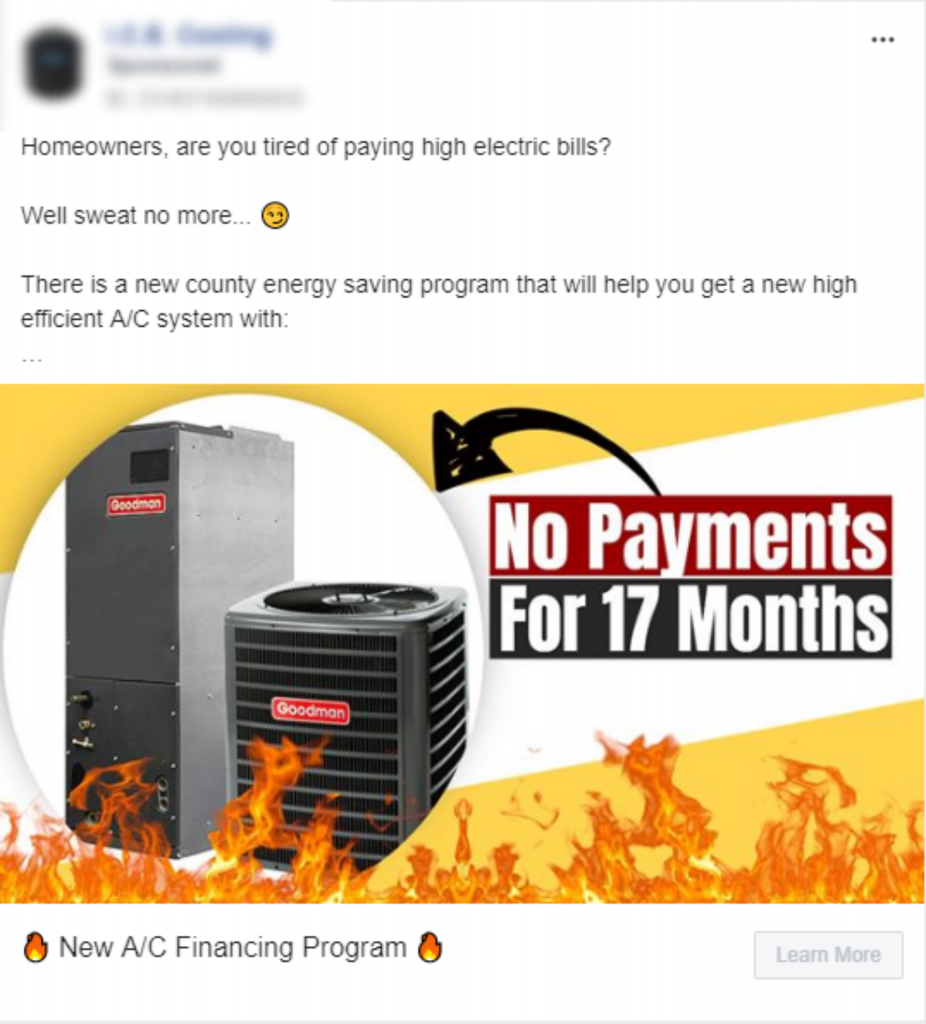 Because they're smart, they created a second ad, with the same message, but in video format. Video has more engagement on social media than any other type of content. You should consider it when you think about launching your campaigns.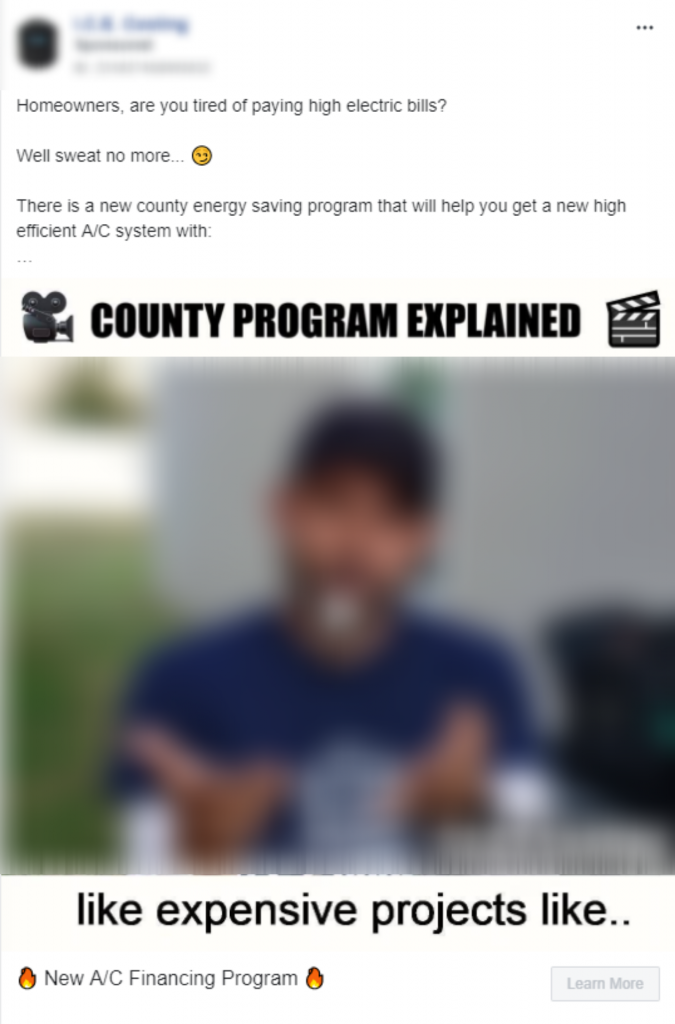 But they didn't stop here. In fact, they are running 10 different ads simultaneously, each of them targeting a different audience with a different need.
For example, they are now offering a Spring Checkup (see ad below) )at what it seems a ridiculous price. This is an example of a contextual ad that gets the attention. Of course, there are some terms and conditions, but the eyeballs were secured and the scrolling stopped.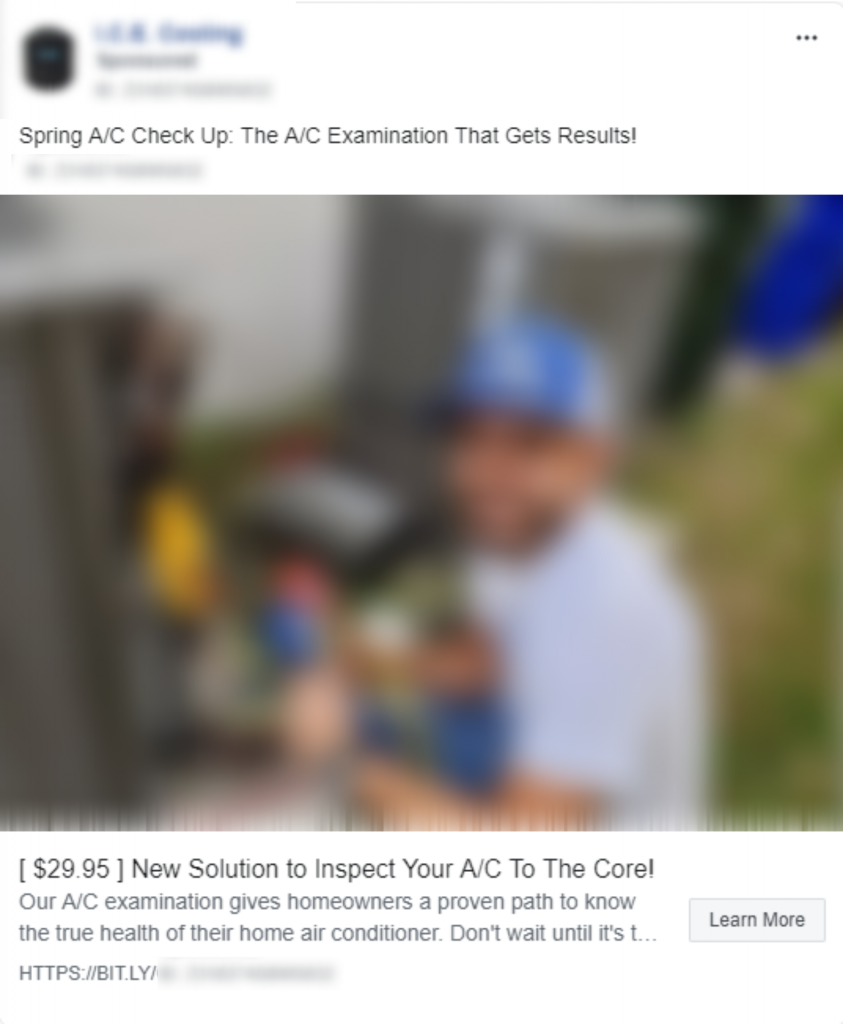 The young lady that 3 minutes ago was scrolling through her feed on Facebook is now a prospect that clicked on the Learn More Button, expressing her interest in the offer. She gets teleported in about 2.8 seconds in a different place. She's still sitting in her favorite armchair, in her living room, with a glass of red wine in her left hand, but the screen in front of her opened a portal to a virtual world, a world that belongs to you, the HVAC company – your Websiteland. Congratulations, you're just seconds away from getting another hot lead!
Website
Now seriously, you don't want people to wander through Facebook. You would want them to come to your place, your website, to catch a breath and get something for themselves, they deserve it, right?
Why is Sally getting an AC Spring Checkup and you don't? You don't want your system to fail now, in the middle of the Coronavirus crisis!? We're young and healthy, wear masks, gloves, have sanitizer and accept online payments. Come and get your special priced Spring Checkup while it lasts!
This is what websites are for. They are the place (YOUR place) where you help people, where you offer value and in return hopefully get lots of money in return.
Squeeze landing page
Because you want the message on the website to match the message that attracted the prospect to it, you will create a special landing page, a web page where your prospect "land" after being directed to your website. Because this web page has a single goal – to turn prospects in hot leads – it is called a squeeze page. Its goal is to squeeze the contact information from your leads so your sales team can get busy.
Ok, this is pretty much what these guys did. They got the eyeballs, teleported them to their kingdom, presented them the riches and got the contact details for a full tour. And this is what you are going to do if you are serious about lead generation.
Imagine your website like a piping system. You don't want it to leak or divert the water to your neighbor or in the sewing system. No, you want it to direct the clean fresh water to your tap…This is how your website should work. It should bring you fresh new leads every day.
Go get them!
Written by
Laurentiu Culda, is Marketing Manager at FieldVibe.com, the best scheduling app tailored to field service professionals.