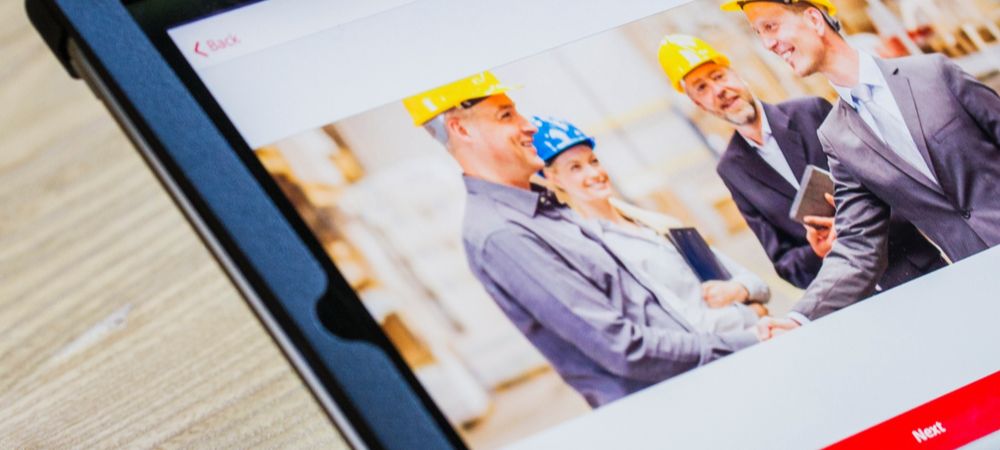 Digitalization, a word on the lips of everybody these days. At every expo or convention that you go to or at any other business-related events, heck, even with your friends and family, the conversation is brought up more frequently than ever. Well, they might not spell exactly this word, but you might hear more about websites, digital marketing, Facebook ads, Google search ads, Yelp listings, scheduling and dispatching mobile apps, field service management software, app calculators, smart meters etc. All these have something in common: digitalization.
What does Digitalization mean?
According to Gartner, Inc., Digitalization is the use of digital technologies to change a business model and provide new revenue and value-producing opportunities; it is the process of employing digital technologies and information to transform business operations.
That basically includes every kind of software that is at one point involved in managing and growing your field service business.
Key Statistics
A report released by the Brookings Institution's Metropolitan Policy Program states that the Digitalization Scores in the Construction Industry rose up to 33 points in 2016, from 12 points back in 2002. That's more than 150% in 14 years! This means that construction companies, including the ones in the home services sector, started to digitize their business operations more and more in the last 14 years.
A McKinzie study conducted in 2015 found out that 68% of the work of the First-Line Supervisors of Mechanics, Installers, and Repairers, could be automated using various existing technologies. The same study states that up to 35%  of the work performed by the HVAC Mechanics and Installers, 42% for the Electricians and 50% for Plumbers could also be automated. You know it: if something can happen, it will. The opportunity is here and a lot of companies are putting in a lot of time and effort to make the best out of it.
With 71% of the new jobs requiring a medium or high level of digitalization, the trend is clear and our question for you is: where is your home services company on the digitalization scale?
Digitalization as a threat for service companies
Digitalization is disrupting a lot of industries and creating a lot of opportunities in the process. But these opportunities may come at the expense of small and big businesses alike and especially at the expense of locally established businesses that didn't make the step towards the new business model.
This includes home service companies like yours. It's nothing wrong with that, but they are vulnerable to the recent changes in customer behavior. Because let's face it, digitalization is not just a new business trend but also an everyday reality for the consumer. Think about it, what you do when you are looking to buy something? Do you go directly to the store and buy it or do you search it on the Internet first? You might even order it over the Internet! Your customers are doing the same thing!
But the digitalization goes beyond the customer behavior and customer acquisition. It can fuel your competition and swallow your market, unlike anything you've seen so far! With the correct digital tools in place, your competitors can take more jobs with the same amount of workforce, be more flexible and respond quickly to the needs of their customers, growing their field service business and making it even more efficient in the process. This leaves you with one option:
Digitalization as an opportunity
Yes, to treat digitalization as an opportunity.
You worked hard to get where you are now. But what got you here will not necessarily get you where you want to be. It's not about your skills, your projects are a live testimony of your craftsmanship. But it might be about this big external factor that changes the way customers interact with your business and the way they expect you to interact with them: Digitalization.
Related: Can Field Service Companies Work Remotely?
So these are your opportunities:
1. Make sure that people can easily find you in the digital world. Put up a website, create a Facebook page and update it regularly, set up your Instagram business account and start documenting your process and celebrating your employees there, make sure you are listed on Google My Business and other relevant platforms for your service business, get online reviews and make them visible everywhere you can. These are just some of the things you can do to digitalize the way you communicate with your potential service customers. 
2. Digitize your business operations with the help of field service management software. This category includes scheduling apps and scheduling software, dispatching software, routing, estimating and invoicing software and other types of field service software.
Field Service Management Software as a digitalization force in home service companies
Your service business deserves to grow! We are here to tell you that you can set up your service business for success if you start digitizing your business operations today. Yes, today, because the opportunity cost gets bigger and bigger with every passing day.
If some years ago only big companies could afford to implement a field service management software solution, we now live in the cloud software era where you have access to affordable service software, like FieldVibe, that you can start using for free.
A field service software can help you in different ways:
–It helps you reduce communication errors. The information does not get lost on the way.
–It helps you streamline your internal communications. The information is structured in an efficient way and can be easily shared with other team members. 
–It saves your office staff a lot of hours by automating internal processes.
–It saves your field technicians a lot of hours by making the information very accessible and giving them the option to collect field data very easily. 
–It helps you get real-time data and thus improving your ability to make fast, better-informed decisions 
–It helps you communicate better with your customers by giving you the tools to send  automated reminders and all sorts of customized messages
As technology evolves there are more and more possibilities in which field service software solutions can help home service companies grow and expand their business. 
How FieldVibe can help you digitize your field service business
Dedicated entirely to small field service businesses, at FieldVibe we build service software solutions that make people's lives better!
We give you the tools to efficiently schedule and dispatch field teams, increasing company productivity and customer satisfaction.
1.Easily schedule your work and assign it to the available technicians with just a few taps on the screen
2. We provide you with real-time status and location for every one of your field teams. 
3. Your technicians can easily clock in for every job they have, automatically generating powerful activity reports.
4. You eliminate all that paper from the office and the service trucks. Not only that, but you also eliminate the possibility of losing important information on the way. Everything is stored safely and backed up in the cloud.
5. Your customers can get automated text reminders for their bookings, helping you eliminate the risk of dispatching your technicians to an unavailable household. 
6. You get powerful activity and financial reports that help you stay on top of your everyday activities.
Let's partner for your growth!
These are just some of the benefits that you get by choosing FieldVibe as your growth partner. If you want to easily schedule and dispatch field technicians, be more efficient and organized, increase productivity both in the field and in the office, be one step ahead of your competitors and be in control of your operations, start using FieldVibe's field service management software today! It's free!
Related: The Best Scheduling App for Field Service Professionals
Written by
Laurentiu Culda, is Marketing Manager at FieldVibe.com, the best scheduling app tailored to field service professionals.