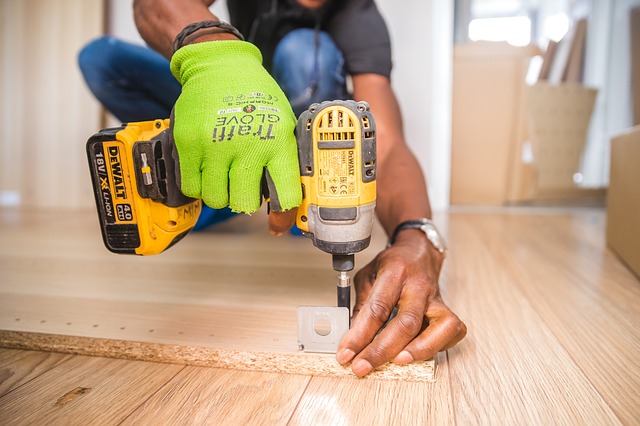 In this article, we're going to help you with the best steps you need to take in order to start a handyman business. Let's get straight to it!
Figure out what services you will provide
For our first step, you need to figure out what services you're willing to do as a handyman.
You might find out that you have a tendency to do as many things as you can. 
The thing is, even though people have the impression that handymen should be good at everything around the house, no one can be.
That's why you need to settle on the things you can or can't do.
Make a hierarchical list with all the things you think you can provide, from most skilled to least skilled.
You'll find out that you probably wrote a few services, and now it's time to narrow down on the ones you are most 'qualified' to do.
You also need to focus on the scale of the jobs you can do, big or small.
For example, big repairs such as remodeling whole rooms can seem daunting at first, but you might find out that they're actually much more profitable.
Or you might want to focus on small repairs, such as fixing doors, leaky faucets, windows, hanging pictures, etc., as these have a much quicker compounding effect from a financial standpoint.
Generally, it's more profitable to offer a few services that you're exceptional at, rather than using a shotgun approach and do any job you can get your hands on, but poorly.
Find out what your future competition is doing
You might find out that you're probably not the only handyman in your area.
Well, rest assured that one of the best things you can do to kickstart your handyman business is to perform an audit on your competition.
Check their services, prices, reviews, usual operating zone, specialty, marketing efforts or channels, and overall create a comprehensive portfolio on them.
You might find it easier to position yourself with regards to them now that you know how your business will compete against them.
But not everything needs to be a competition for jobs and clients.
You might reach the point where clients ask you to do specific jobs that aren't included in your services.
Our recommendation is to be sensible and use your better judgment when deciding if you take the 'out of scope' job request or not.
If you don't, why not help a fellow handyman out, since you'll not even be doing the job anyway.
By referring a fellow handyman to a client, you not only create a professional rapport with your client, but you also get to build strong business relationships with other handymen.
This way, you raise your chances of getting referred yourself in turn, from other handymen that redirect clients that want jobs they do not perform.
A win-win for everybody.
Find out the handyman laws in your state
Handyman laws are generally different in each state, even though some are similar.
Make sure you do the research on the contracting laws in your state and find out the services you can and cannot offer without a proper license.
Generally, for small repairs such as hanging a picture or fixing a leaky pipe, you won't need a special license to do them.
Most states have a limit on the total cost of a job you do – in some states it can be as low as $500 and in others as high as $3000.
If you decide on doing jobs that are higher than $3000 (or your state's threshold), then you need to settle on getting a contractor's license.
In some states you can't do jobs that fit under a specific trade such as HVAC, plumbing or electrical unless you carry a professional license.
Decide if you'll work alone or with a partner
Generally being a handyman is a solo business, but there are some of you out there that might partner up and spread your jobs.
You also might decide in the future that you can't fulfil all the requests sent to you by possible clients, so you want to get a partner to reach all of them.
You could prospect the market for willing handymen or even talk to some of your friends. 
In this case, you'll also need to figure out a way to manage everything, your jobs, your clients and everything related to your work.
FieldVibe is the perfect companion to your work, as it frees you from the hassle of keeping paper tabs on every client and job you need to do.
Figure out who is your ideal customer
When starting out you might be tempted to do jobs for everyone.
You will try to rationalize lowering your prices to get jobs and even take jobs that you're not particularly good at.
So that's why you need to focus on defining your ideal client persona: who they are, what budget do they have, and what jobs are they most likely to look for.
Happy customers are more willing to give you honest referrals, repeat business and testimonials that can further leverage your new clients potential.
Working for everybody means you'll struggle both financially and emotionally.
There is a chance that you yourself probably don't fit your ideal customer yet, and by that we mean that you should probably price your services in such a way that it would be hard for you to afford yourself.
We know it's hard not to be biased and think objectively about the quality of your services, but you need to place yourself in a way that you're sure to turn in profit.
Figure out how much you'll charge for your services
This is one of the more challenging aspects of starting your handyman business, because you might feel biased into asking less than what people would actually pay for your services.
This is why it's important, like we mentioned in step 1, to see what your competition is doing.
Of course, you can always balance your budget based on the operating costs plus adding the extra money that will represent your profit, but it's good first to see what others are doing.
This way, you not only don't get influenced by the prices that get thrown around your industry, but you also get an insight into what your local handyman market charges.
Also make sure to factor in elements like your experience level, ability to sell yourself and your services, your reputation, work ethic and others.
When settling on a cost, don't let the famed impostor syndrome get to you.
You should keep a level head and rationally estimate your worth as a professional in the current handyman market.
Business plan & Marketing
Every business needs a business plan, even if you decide to work for yourself.
You have to have your finances in order and work based on projections and milestones on where you want to see yourself and your business in the upcoming months or years.
After figuring out your business goals and plan together with the ideal client, you need to reach them and convince them to hire you.
From our experience, handymen are usually in high demand, so you shouldn't have problems finding jobs.
Now, the problems might come in finding the jobs that you actually want to do and are qualified to.
That's where marketing comes into place, being able to reach the people that will request you to do the type of jobs you want.
The good thing is that usually handymen are not that keen on marketing, especially digital marketing, so you're already in an advantageous position by reading this article.
The good thing about marketing is that with good efforts your business gets an upgrade – better clients, better prospects, you can up your costs, etc.
How to get started?
You should look into building a website or at least a Facebook page for your business, so it will be easier for people to find out about you.
There's this thing called SEO that helps you rank better when people search for you or special keywords that relate to your business.
Usually, people who know a thing or two about SEO think that it only applies to blogs or websites, but it also applies to Facebook pages.
So, this means that people who search on Google for 'Portland handyman' might reach your Facebook page, so keep this in mind while filling in your description on Facebook to target your specific keywords for your business.
Also, Facebook provides a way to reach people through targeted ads, for practically no money at all, so you can give it a look sometimes.
A blog is also a great companion and communication tool for your website, as you get to create an educational type of bond with your clients.
Through your blog you can instruct them on how to hang a picture, why a handyman is what they need, how to quickly fix a leaky faucet until the handyman comes, and others.
In this way, you assert yourself not only as a reliable business but also as an educator.
Plus, if you maintain a blog, you can provide clients with weekly e-mail newsletters and updates so that they have you in their thoughts.
There are a lot of other factors that can be done to increase your marketing efforts, such as coupons, flyers, business networking groups, Reddit, forums and others.
It's important to focus and build on what differentiates your business from others.
You could also join the local chamber of commerce or network more and build connections with your local community.
Conclusion
Being a handyman is an extremely lucrative and rewarding career, and you'll always be in demand.
There are a number of steps we provided in this article to help you start your handyman business and to get you going on earning a profit, so make sure you keep them in mind.
See you in the next one!