Ask the Experts (II): Dan Antonelli @KickCharge on Marketing for Contractors and Home Services Companies
Posted on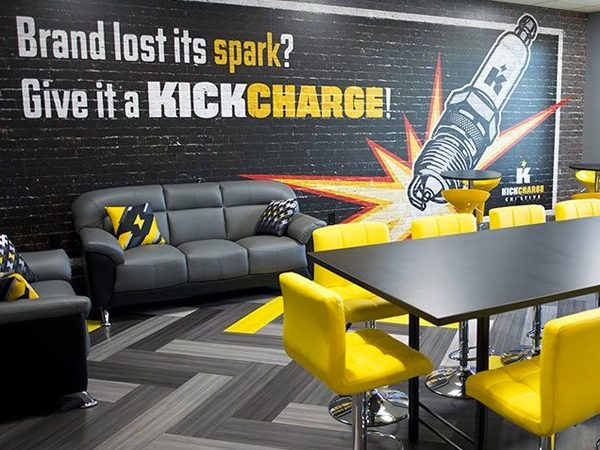 Hi Dan. Thank you for taking the time to answer our questions. We think your knowledge and expertise are of high value for business owners in the home services industry. Please tell us a little about yourself.
Hi, thank you for the invitation!
I've been running our agency since 1995. It's exciting to be entering our 25th year. I head up the creative services here, and my primary focus is on branding, and truck wrap design. As an agency, we take a brand-centric approach to marketing. So for us, integrating a brand consistently and cohesively are at the core of how we approach marketing a service. That means everything is always on brand – the truck, the web site, the social media, the brochures, ads, etc. 
I've been obsessed with branding and logo design from a very early age. I've written three books on logo design, including my last book "Building A Big Small Business Brand", which is focused on how small businesses can leverage their brand. 
At this point, we've branded more than 1,000 small businesses, including over 350 home services businesses. I don't believe anyone in the world has designed more home services brands than we have.


Some of the many projects developed by KickCharge
When it comes to branding and wrap design, I think it's safe to say that no one in the country has more accolades and awards than KickCharge in the home services vertical. Some include: 
20 winners in HVACR Magazine Tops In Trucks annual contest, including sweeping all the winners in 2019 
23 winners for Plumbing & Mechanical magazine's Truck of the Month, including Truck of the Year in 2018
Over 20 awards from NJ Art Directors Club for fleet branding, 8 awards for Sign Businesses' annual truck wrap competition in the Best Commercial Wrap category
16 front cover features, including SignCraft Magazine, Signs of the Times, Plumbing & Mechanical, Canadian Contractor, HVACR Business 
What do you see as the biggest challenge for home services companies, when it comes to marketing?
They continue to waste money on advertising without first addressing deficiencies in their brand. A more effective brand will make all of their advertising work better, and deliver better ROIs than a weak, ineffective brand. Additionally, we continue to see really poorly executed truck wrap designs that are illegible or deploying a poor brand, thus marginalizing their effectiveness. We also see a ton of generic web sites being sold to contractors. Sites with no brand integration, or using the same exact content that used on dozens, if not, hundreds of other sites. I guess if your brand and business are generic, then maybe a generic web site is perfect for you. For us, we think consumers are craving authenticity, and we want to make sure we lead in with a positive brand promise at every touchpoint. 
What's ironic is that so many home services businesses have really poor brands. So the question is: What would happen to your business if you had the best brand in your market? We see the poor branding on the competitive landscape as the easiest to exploit when devising strategies to dominate a market. 
What are the key marketing areas that contractors and home service companies should focus more on in 2020?
Make sure they have a brand that's worth marketing. Then, make sure they have an authentic, remarkable voice that is captured not only in the written words, but the visuals. Take advantage of the rolling billboards at your disposal, and if they're not working properly, invest in that. Dollar for dollar, nothing is a better investment than truck wraps. 
Related: Surviving The New Decade: Is Branding Really That Important for Field Services Companies?
What is the tool or marketing tactic that contractors and the home services companies can implement right now, with less than $1000?
They could run a very targeting, hyper-focused Facebook campaign to a very select group of customers. 
Related: How to generate quality HVAC leads. A formula that produced $285k in 60 days
In the end, tell us about how you can help contractors and home services companies.
We help them win the battle on the street level so that customers already know their name, and when they're ready for service, they remember who to call. We then implement a solid brand strategy across all the marketing platforms to ensure that no matter where your customer interacts with your business, the message and brand promise are consistent. We make companies who are nearly invisible in their market become household names, and we do it by being smart with budgets, and making our brands do more of the work instead of throwing more and more money at a weak one. 
Author of three books on logo design, Dan Antonelli is president and chief creative officer at KickCharge® Creative, an award-winning 20-person design and branding studio located in Washington, NJ.
This is the 2nd article, part of a blog series of interviews that we took with marketing specialists on marketing for contractors and home services companies. You can read the 1st interview here.
Also Read: The Best Scheduling App for Field Service Professionals
Written by
Laurentiu Culda, is Marketing Manager at FieldVibe.com, the best scheduling app tailored to field service professionals.