If you find yourself looking for some plumbing motivation or you just have a bad day, we have everything you need to put you back on your feet again. From plumbing quotes, plumbing old sayings to funny plumbing jokes and even plumbing memes! You can use them on your Facebook Page, Instagram profile or wherever you want!
---
Before laughing (what we do)
FieldVibe is an easy to use job scheduling app, tailored for plumbing businesses. Schedule your jobs on-the-go, send automated text messages to remind your clients and keep all your clients' history in one place.    
---
Top 10 Plumbing Quotes that you can find online
Here are some of the most famous and inspirational quotes about plumbers and plumbing in general that you can find online: Related: Your new plumbing logo [2020 Guide]
Acting is not an important job in the scheme of things. Plumbing is. – Spencer Tracy

If you consider the contribution of plumbing to human life, the other sciences fade into insignificance. – James P. Gorman

"If I had my life to live over again, I'd be a plumber."

– Albert Einstein

"A plumber is an adventurer who traces leaky pipes to their source." – Arthur Baer

Plumbing – that little thing between the Middle Ages and Modernity – anonymous

If it wasn't for plumbing, we would have still died from drinking water – anonymous

Imagine the cities of today without modern plumbing. You can't. – anonymous

More children are dreaming about becoming doctors than plumbers. This is in part sad, considering how many lives are saved each year with the help of modern plumbing – anonymous

Unlike doctors, plumbers are in the business of prevention – anonymous

Man, an ingenious assembly of portable plumbing. – Christopher Morley
Source:FieldVibe, BrainyQuote, 
Also Read: The Best Scheduling App for Field Service Professionals
Funny Plumbing Quotes
"Television is like the invention of indoor plumbing. It didn't change people's habits. It just kept them inside the house." – Alfred Hitchcock
"I told my wife the truth. I told her I was seeing a psychiatrist. Then she told me the truth: that she was seeing a psychiatrist, two plumbers, and a bartender."

– Rodney Dangerfield
"My singing voice is somewhere between a drunken apology and a plumbing problem."

– Colin Firth
"If I waited for inspiration every time I sat down to write a song I probably would be a plumber today."

– Barry Mann
"People in West Virginia do have cars. We have indoor plumbing. We even use knives and forks."

– John Kruk
"I wish I had gone into industrial plumbing. That's a joke."

– Leon Russell
"I mean, just because you're a musician doesn't mean all your ideas are about music. So every once in a while I get an idea about plumbing, I get an idea about city government, and they come the way they come."

– Jerry Garcia
"Businesses have come and gone at Homeboy Industries. We have had starts and stops, but anything worth doing is worth failing at. We started Homeboy Plumbing. That didn't go so well. Who knew? People didn't want gang members in their homes. I just didn't see that coming."

–

Greg Boyle
"Let's say I was a plumber, or I worked at a factory, I would download music, you feel what I'm saying?"

– Obie Trice
"My plumbing is all screwed up. Because it turns out, I do not own a garbage disposal."

– Demetri Martin
"Had I been more responsible I might have made something of myself as a junk bond trader, long-haul trucker or perhaps a plumbing contractor."

– Brock Yates
Source: Jokes 4 us, Pro Plumber Brisbane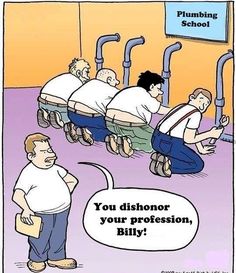 Q: Why shouldn't you play poker with a plumber? 

A: A good flush beats a full house every time.
Q: What do Doctors and Plumbers have in common?

A: They both bury their mistakes.
Q: How does a plumber break the ice?

A: Butt crack a joke.
"Your crap is my family's bread & butter."
"A plumber is the only per­son who can take a leak while they fix a leak!"
Plumbing is the only profession where you'll hear your boss say, "Be sure your 'joints' have lots of 'Dope' in them!"
On a Plumbers truck: "We repair what your husband fixed."
Three Plumbers and three Electricians are about to board a train to a Teamsters convention. The Electricians notice that the Plumbers bought only one ticket between them.
A plumber was called to a doctors home to fix leaking faucet that had kept the surgeon awake late at night. After a two-minute job the plumber demanded $150. The surgeon exclaimed, 'I don't charge this amount even though I am a surgeon." The plumber replied, "I agree, you are right. I too, didn't either, when I was a surgeon. That's why I switched to plumbing!"
  Also Read: Can Field Service Companies Work Remotely?
"Anybody who has any doubt about the ingenuity or the resourcefulness of a plumber never got a bill from one."

– George Meany
  A must-have item in every plumber's requisite.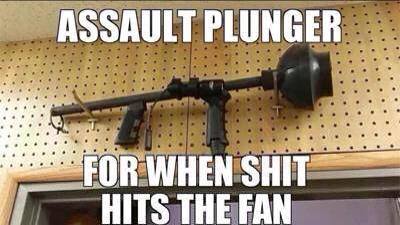 DIY plumbing install gone horribly wrong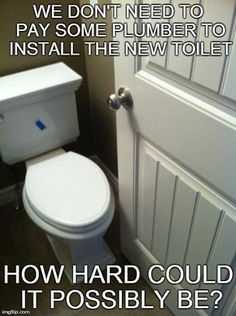 Licensed and insured!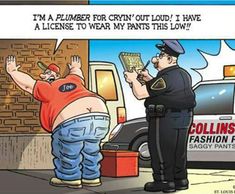 Better this way!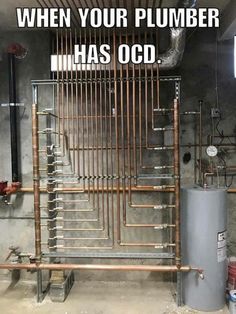 Amen to that!
Inspirational Plumbing Quotes for Plumbers
"Talent means nothing, while experience, acquired in humility and with hard work, means everything."

– Patrick Suskind
"The price of success is hard work, dedication to the job at hand, and the determination that whether we win or lose, we have applied the best of ourselves to the task at hand."

– Vince Lombardi
"There is no traffic jam along the extra mile."

– Roger Staubach
Do the hard jobs first. The easy jobs will take care of themselves."

– Dale Carnegie
"Happiness is the real sense of fulfillment that comes from hard work."

– Joseph Barbara
"There are no shortcuts to any place worth going."

– Beverly Sills
"If something is wrong, fix it now. But train yourself not to worry, worry fixes nothing."

– Ernest Hemingway
"Nothing is less productive than to make more efficient what should not be done at all."

– Peter Drucker
"Start by doing what's necessary, then what's possible; and suddenly you are doing the impossible."

– Saint Francis
"In a moment of decision, the best thing you can do is the right thing to do, the next best thing is the wrong thing, and the worst thing you can do is nothing."

– Theodore Roosevelt
"Concentrate all your thoughts upon the work in hand. The sun's rays do not burn until brought to a focus. "

– Alexander Graham Bell
"Don't be afraid to give your best to what seemingly are small jobs. Every time you conquer one it makes you that much stronger. If you do the little jobs well, the big ones will tend to take care of themselves."

– William Patten
"I'm a greater believer in luck, and I find the harder I work the more I have of it."

– Thomas Jefferson
"When we strive to become better than we are, everything around us becomes better too." 

Paulo Coelho
"Opportunity is missed by most people because it is dressed in overalls and looks like work."

– Thomas Edison
"You've got to get up every morning with determination if you're going to go to bed with satisfaction."

– George Lorimer
"Whether you think you can, or you think you can't – you're right."

– Henry Ford
"Don't wish it were easier. Wish you were better."

– Jim Rohn
"Success means doing the best we can with what we have. Success is the doing, not the getting; in the trying, not the triumph. Success is a personal standard, reaching for the highest that is in us, becoming all that we can be."

– Zig Ziglar
"The man who moves a mountain begins by carrying away small stones."

– Confucius
"The secret of getting ahead is getting started. The secret of getting started is breaking your complex overwhelming tasks into small manageable tasks, and then starting on the first one."

– Mark Twain
Source: Positivity Blog
Old Plumbing Quotes and sayings
Modern cynics and skeptics… see no harm in paying those to whom they entrust the minds of their children a smaller wage than is paid to those to whom they entrust the care of their plumbing.

– John F. Kennedy
The more they overthink the plumbing, the easier it is to stop up the drain.

– Scotty
Editing is really like plumbing a good deal of the time. You put two things together, and a current runs through it.

– Thelma Schoonmaker
"Every actor is somewhat mad, or else he'd be a plumber or a bookkeeper or a salesman."

– Bela Lugosi
Source: Wise Old Sayings
"As I got older, I also found myself agreeing more with Nietzsche, as is no doubt inevitable once your plumbing starts to fail."

― Michel Houellebecq
"They're installing a boiler system," Pandora said, flipping through a book. "It's a set of two large copper cylinders filled with water pipes that are heated by gas burners. One never has to wait for the hot water- it comes at once through expansion pipes attached to the top of the boiler."

"Pandora," Kathleen asked suspiciously, "how do you know all that?"

"The master plumber explained it to me."

"Dear," Helen said gently, "it's not seemly for you to converse with a man when you haven't been introduced. Especially a laborer in our home."

"But Helen, he's old. He looks like Father Christmas."

"Age has nothing to do with it," Kathleen said crisply. "Pandora, you promised to abide by the rules."

"I do," Pandora protested, looking chagrined. "I follow all the rules that I can remember."

"How is it that you remember the details of a plumbing system but not basic etiquette?"

"Because plumbing is more interesting."

― Lisa Kleypas
  We hope you enjoyed our selection of plumbing quotes and jokes. If you are looking for more funny plumbing quotes and memes we have a dedicated post just about them. You can find them HERE.  Check out our other posts on HVAC Memes, Electrician Memes, Lawn Care Memes or Cleaning Memes. Have fun!
Written by
Laurentiu Culda, is Marketing Manager at FieldVibe.com, the best scheduling app tailored to field service professionals.