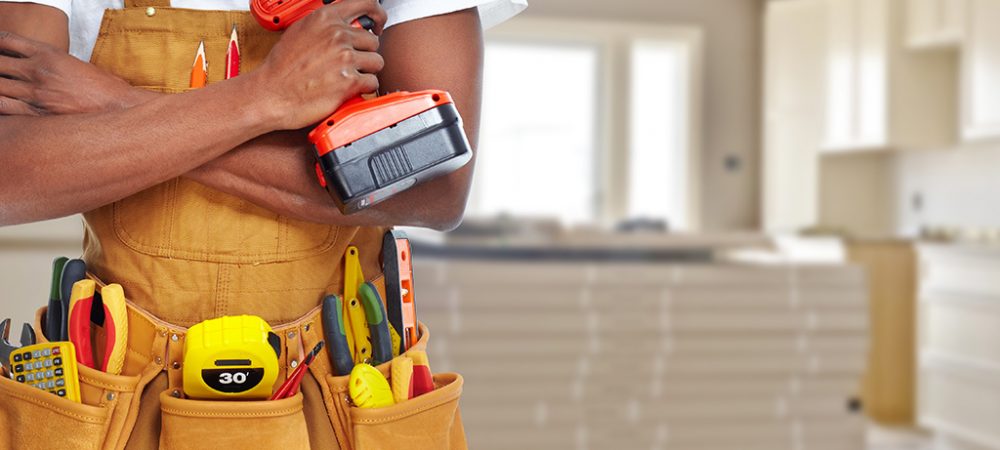 One of the most important factors for a handyman is having the right tools for the right job. By having the right tools you not only manage to do the best job out there as an ace handyman, but also get to finish the job fast and with top-notch quality.
In this article, we're going to provide you with the best handyman tools you can have to kickstart your business or to take your handyman business to the next level.
Tool quality is key, but having the right tools is the most important thing. Let's go through our most important handyman tools below.
1. Screwdrivers
One of the must have tools for handyman is the screwdriver. Screwdrivers come up in a variety of forms, such as: slotted, phillips head, pozidriv, torx, security T and hexagon.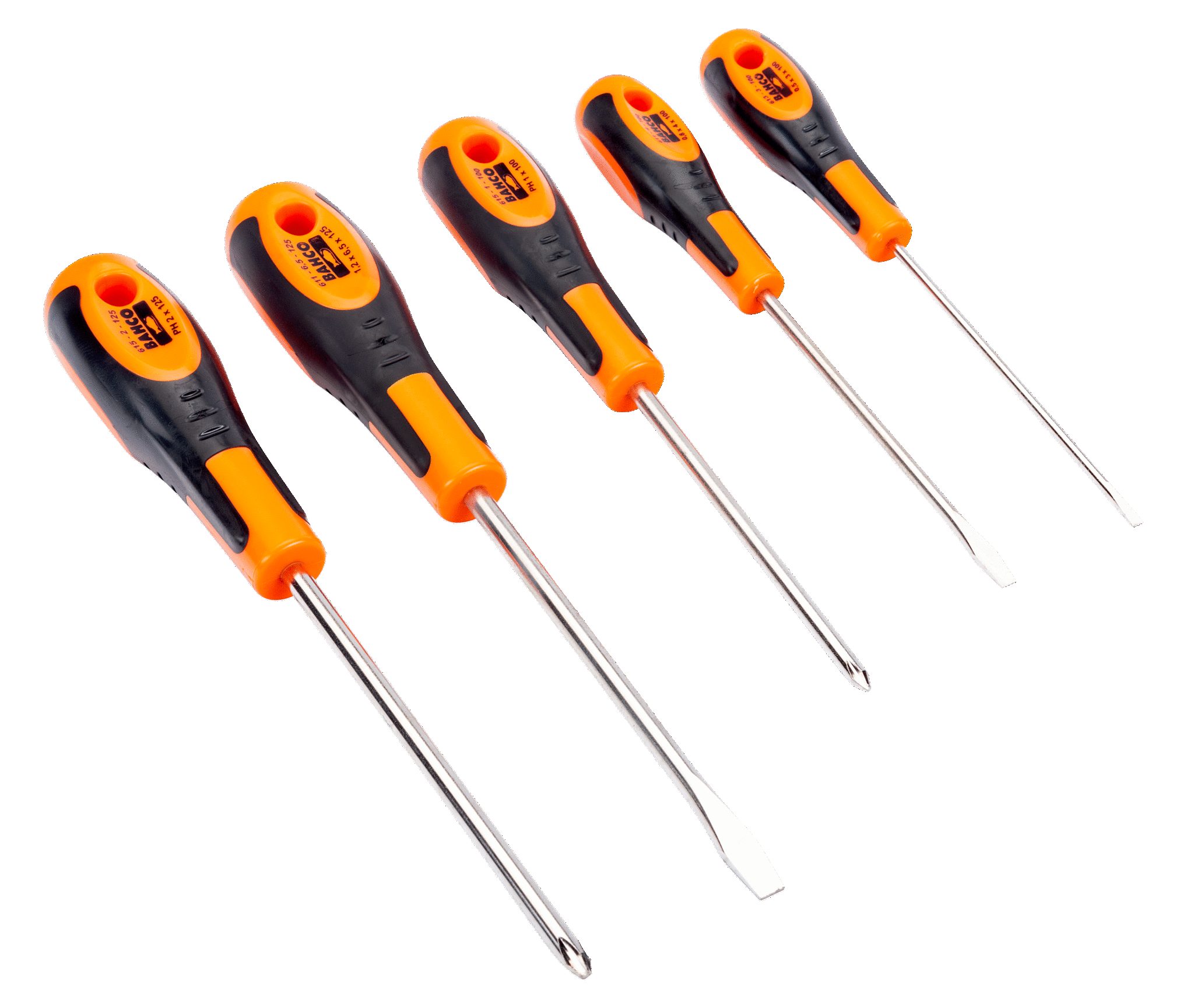 2. Gloves
While working as a handyman, you get to use a variety of tools and get to work in a number of different situations which might put significant strain on your hands and might even get you blisters or even worse.
Gloves are an important handyman tool in order to protect yourself from any type of incident or stress on your hands.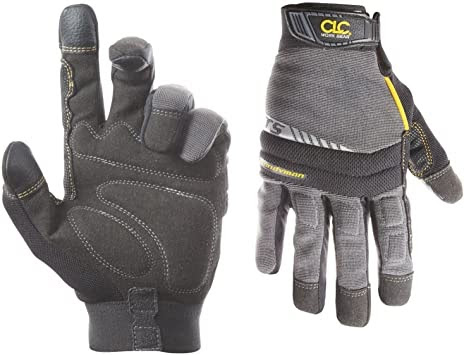 3. Drills
As a handyman, you'll have to make a lot of holes: to put up pictures on the wall, fit tubing and other on-demand items. A handyman's job is always a surprise, this is why drills are one of the most important handyman tools you can have in your arsenal.
Drills come in a variety of shapes and sizes, but the most important ones are the following: drill driver, hammer drill, rotary hammer, impact drill, core drill, ground auger, drywall screwdriver.
But as a handyman, you won't need all of them at once. The most handyman drill you're going to need is the drill driver and probably a drywall screwdriver. The rest of them, you can rent as needed.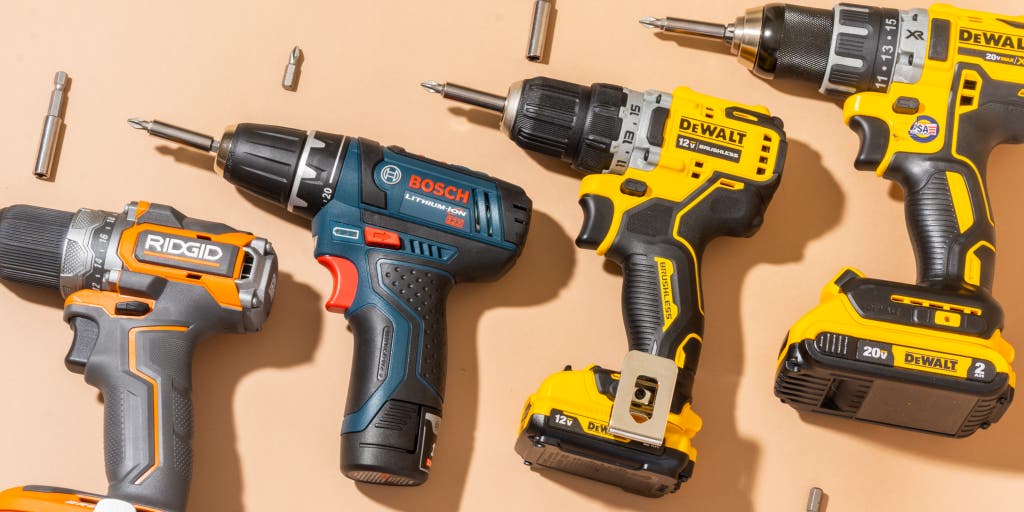 4. Ladder
As a handyman, you'll get to climb a lot of roofs and high places to fix things. That's why it is always important to have a handyman tools set that includes a ladder as well.
There are a lot of useful handyman ladders, but you should look for something that can be folded, so you can handle it with ease.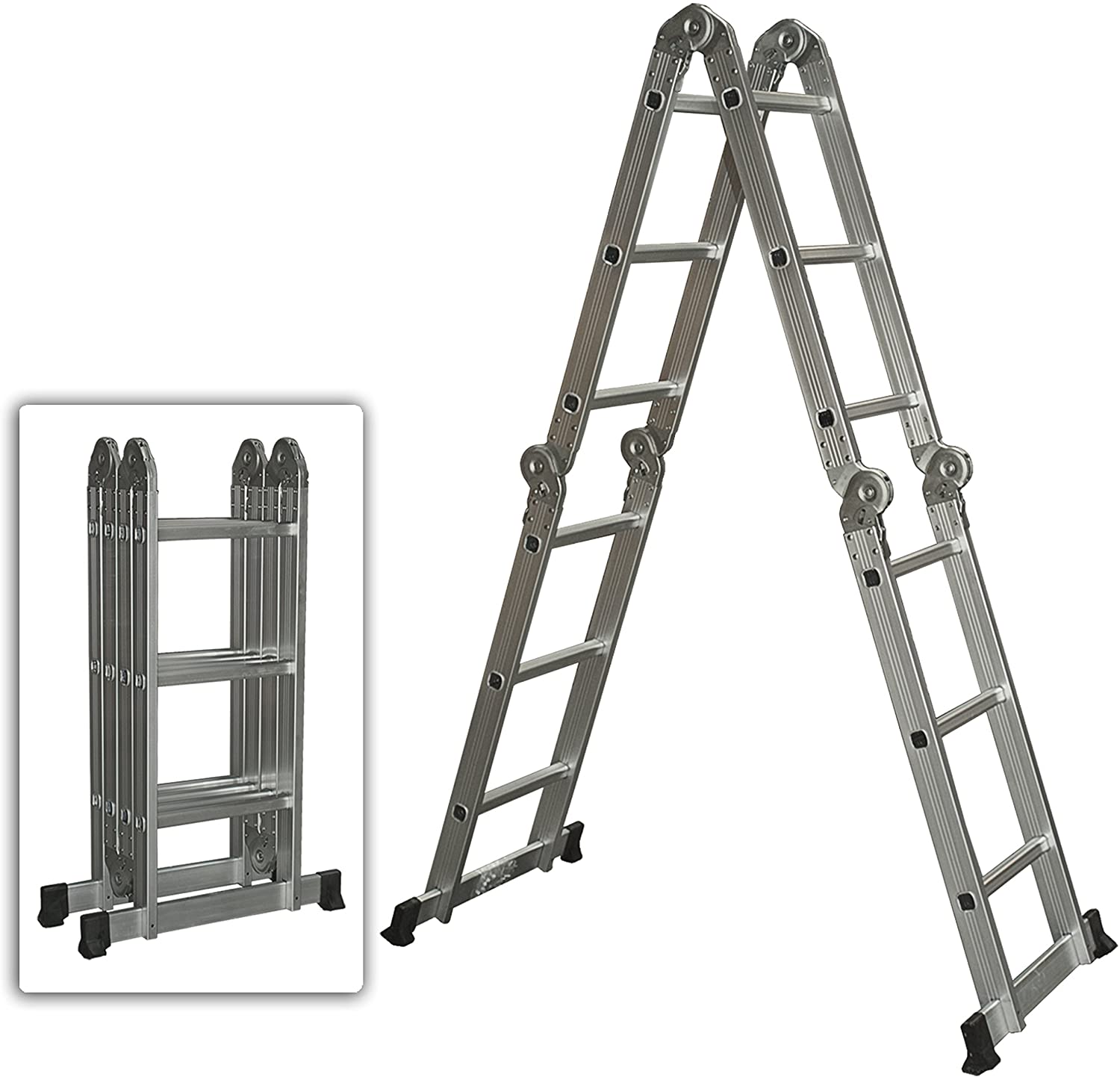 5. Plumbing toolbox
One of the best handyman toolbox you can have in your arsenal is the plumbing toolbox. As a handyman, you're more of a jack-of-all-trades, so you need to be prepared in order to fix broken pipes and leaky faucets.
A plumbing toolbox should always contain items such as a basin wrench, adjustable wrench, pipe wrench, thread seal tape, hand auger, tubing cutter, toilet plunger, a hacksaw and some pliers.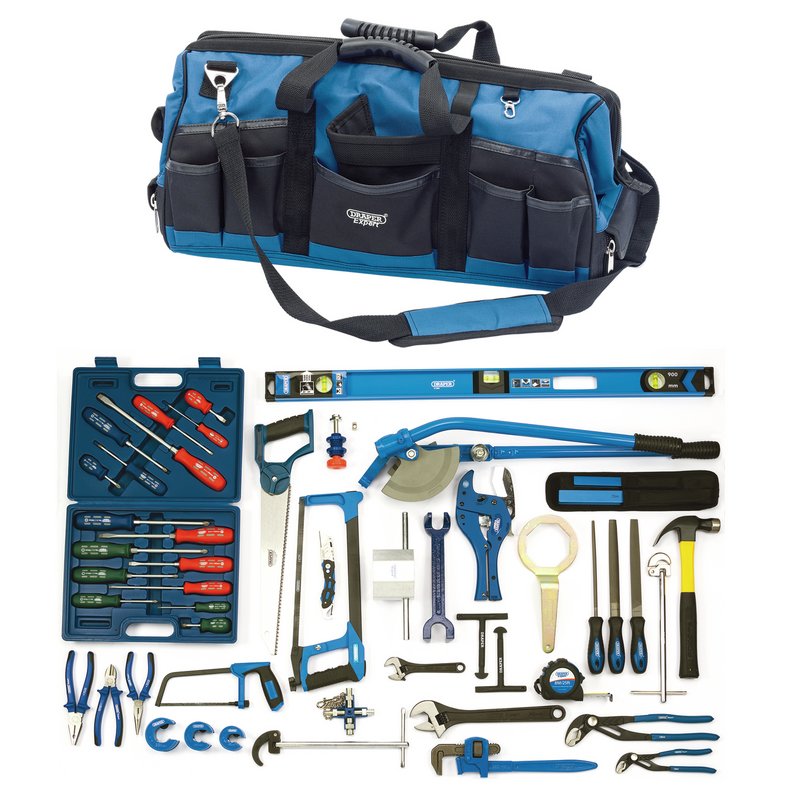 6. Gardening equipment
Like mentioned above, as a handyman you'll get to do almost everything around a house. That's why you also need to have some gardening tools at hand. This handyman kit is especially useful for people who also have gardening needs such as fixing a crooked garden path or replacing a broken garden hose. 
But even for something seemingly easy, you need to have a proper handyman tools set at hand, such as: a shovel, some loppers, a garden hose, and others.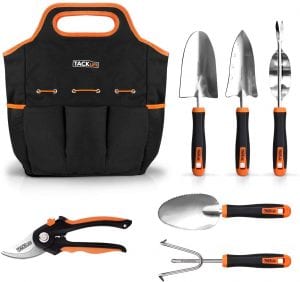 7. Hand sander
For some jobs, you'll have to hand sand floors or blocks of wood. An electrical hand sander can come in handy, or you can even use a sanding block hand sander if you have a tight budget. This kind of handyman tool is going to come in handy sometimes, so it's nice to make sure you have a version of it in your handyman kit.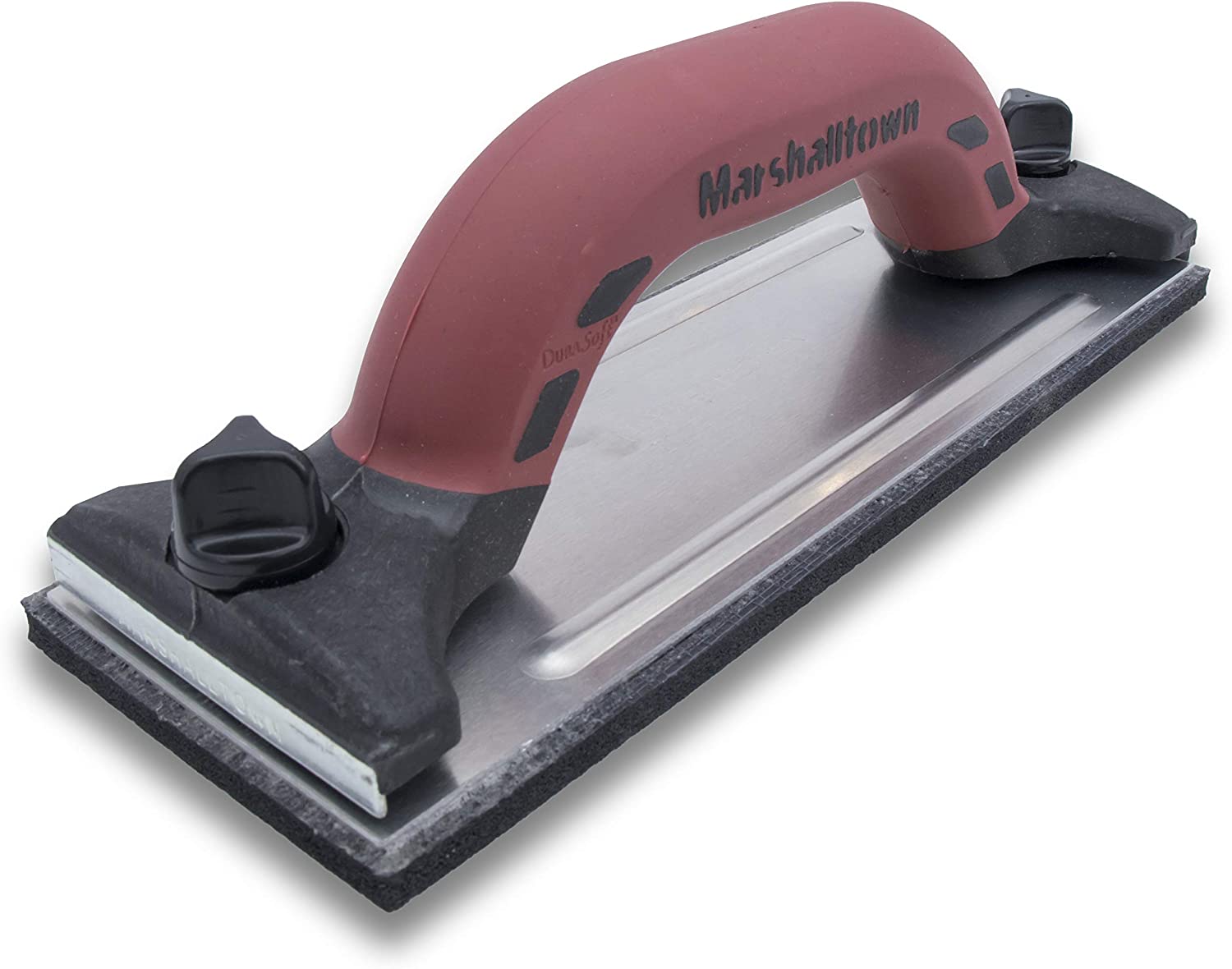 8. Circular saw
You're never going to cut a line more straight than with a circular saw. Whenever you see yourself needing to cut a block of wood in a straight way, the most efficient way is to use a circular saw. You won't have to use it that often (or you will, depending on the thing you are most requested to do), and so the best course of action for you as a handyman would be to rent a circular saw as needed (especially if you are on a tight budget).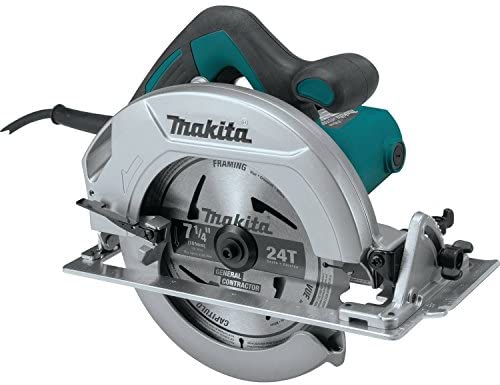 9. Reciprocating saw
One of the best tools for your handyman toolbox is the reciprocating saw. Relatively small and easy to fit into your handyman kit, this tool will surely come in handy as you'll have to cut and fit various materials and items (wood, metal, etc.).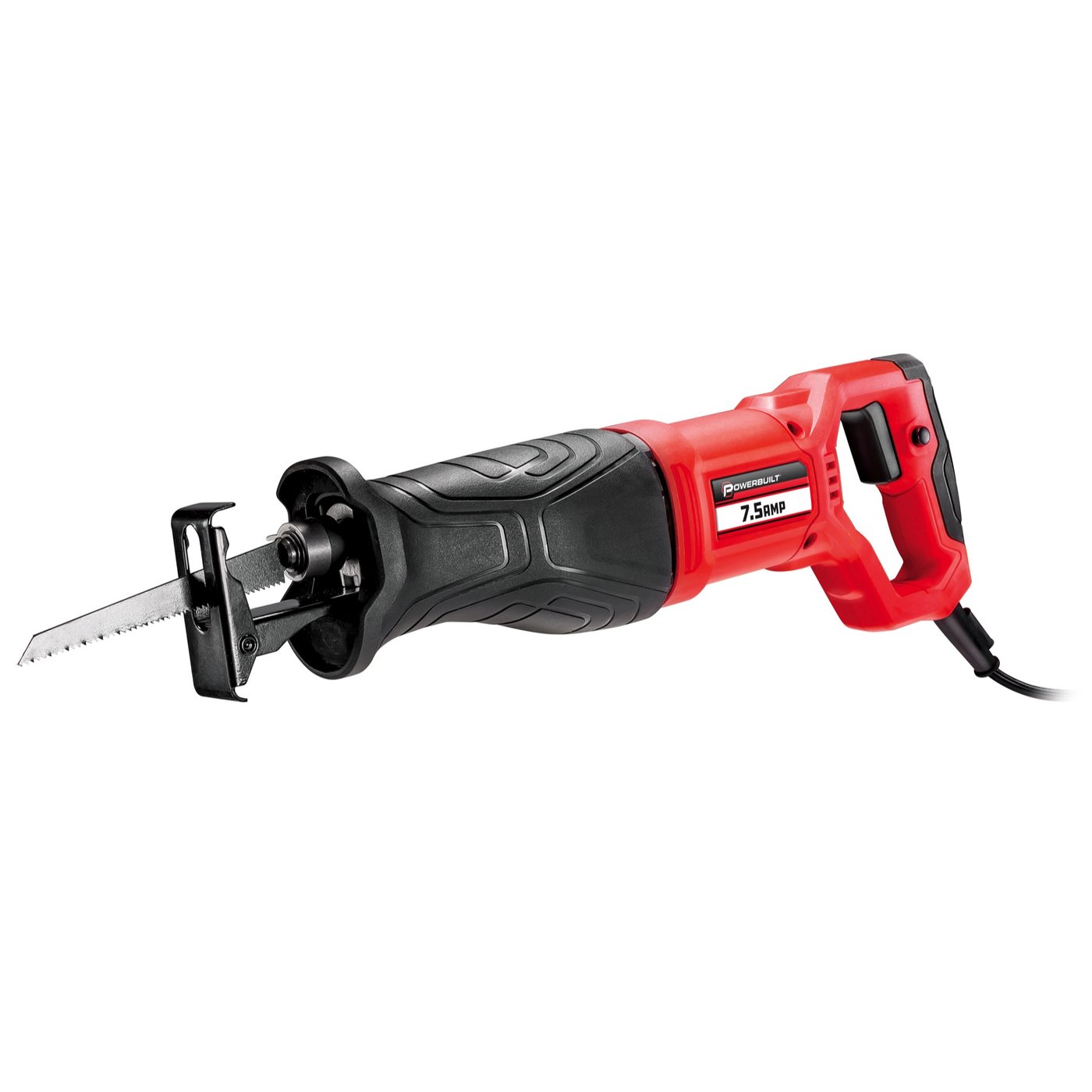 10. Business app
No best handyman tools list would be complete without a business app. Nowadays, with the ongoing digital revolution more and more handymen see themselves as needing to adopt a handyman scheduling app for their employees and clients.
FieldVibe is the best field service software for a handyman. FieldVibe let's you schedule and manage all your jobs, send text message reminders to clients, clock in and clock-out so that you know how much you've worked and manage all your clients and schedule.
Give Fieldvibe a go as your go-to handyman management software!

11. Hand saw
As a handyman, hand tools are for sure going to be the tools that you'll use the most. A hand saw will probably solve 90% of all your sawing jobs, so make sure you got one at hand in your handyman toolbox whenever you need one.\

12. Tile saw
While working as a handyman, you'll get calls from people asking you to fix some broken tiles. Taking the broken ones out is one thing, and fitting the new ones is another. For the new ones, chances are you'll need to cut them to the perfect size, especially for corners. That's when the tile saw comes in handy for your handyman tool set.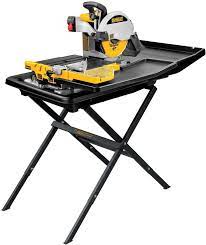 13. Miter saw
The miter saw is used for making accurate crosscuts. It consists of a regular circular saw that can be positioned in a variety of angles to make perfect cross cuts of various materials. Although a more special kind of handyman tool, you'll never know when you'll need it.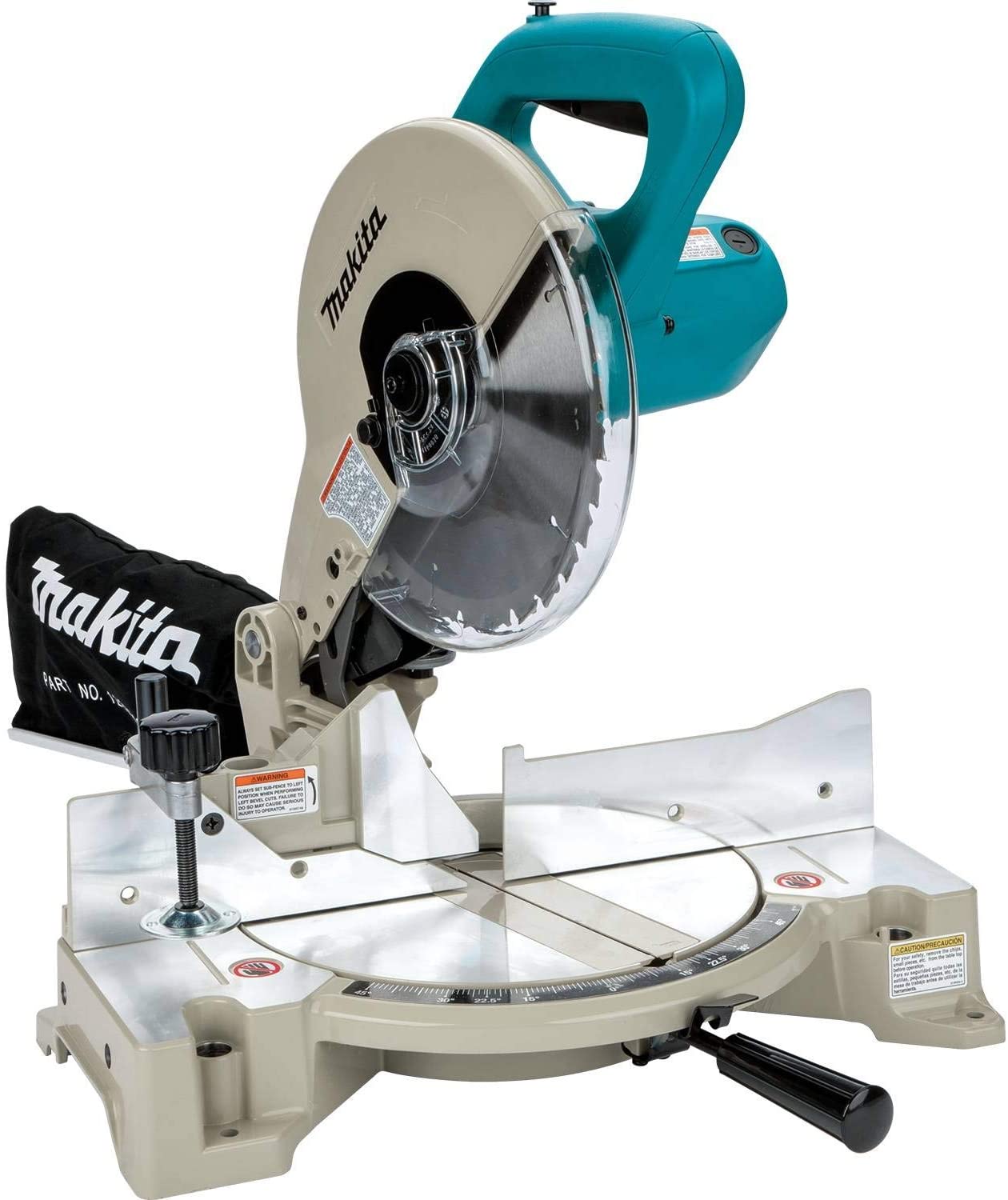 14. Table saw
The table saw provides great stability for your handyman cuts. Although not one of the most portable handyman tools out there, it certainly does it's job well while working in your own personal shed. The table saw is made out of a circular saw blade (which is motorized), mounted on an arbor (a tapered cylinder). The circular saw blade can be adjusted in order to cut deeper or shallower into the material, making it a very versatile and cool handyman tool.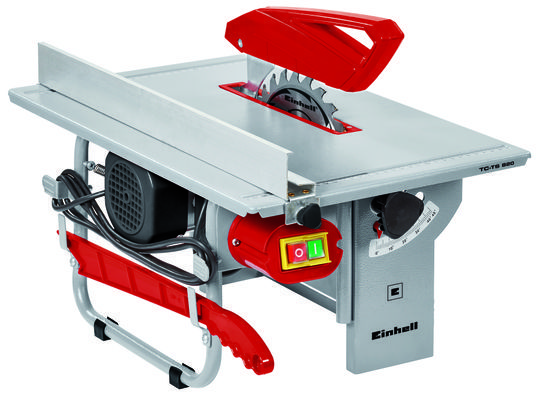 15. Drywall Saw
The last of our saws is the drywall saw. This is one of the few handyman tools that you'll almost certainly never need to have sharpened. Whenever you'll need to cut through drywall like butter, either by making straight lines or various shapes, the drywall saw is one of the most fun handyman tools you can work with.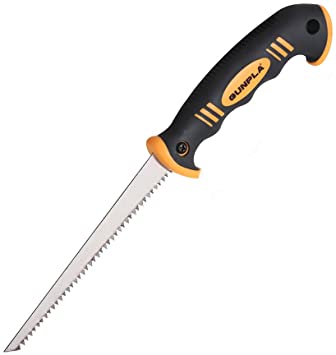 16. Drywall hawk
After hacking through drywall with the drywall saw, you'll most likely need to apply your handyman tools and skills to fix said drywall. For this, you need to have in your handyman toolbox a drywall hawk in order to keep your compound on it while you plaster it on the wall.
17. Hammer
What handyman list would be complete without a handyman hammer? This tool will come in handy more that you will be able to count or remember. A loose or broken nail? Get out your hammer. Need to put a picture up a wall? The hammer is there for you.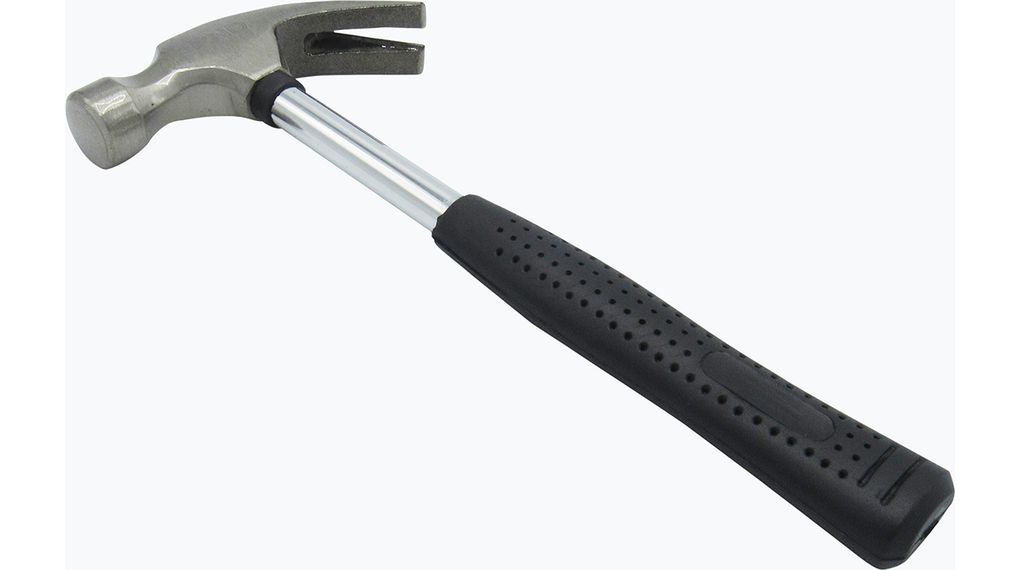 18. Drill bit kit
As a handyman, you'll have to make a lot of holes. That's why having the best drill bit kit that you can rely on as a handyman, is one of the smartest and best decisions you can make. Goot drill bit kits are not expensive, and they'll last you a long time if you're careful and use the right ones for the right material.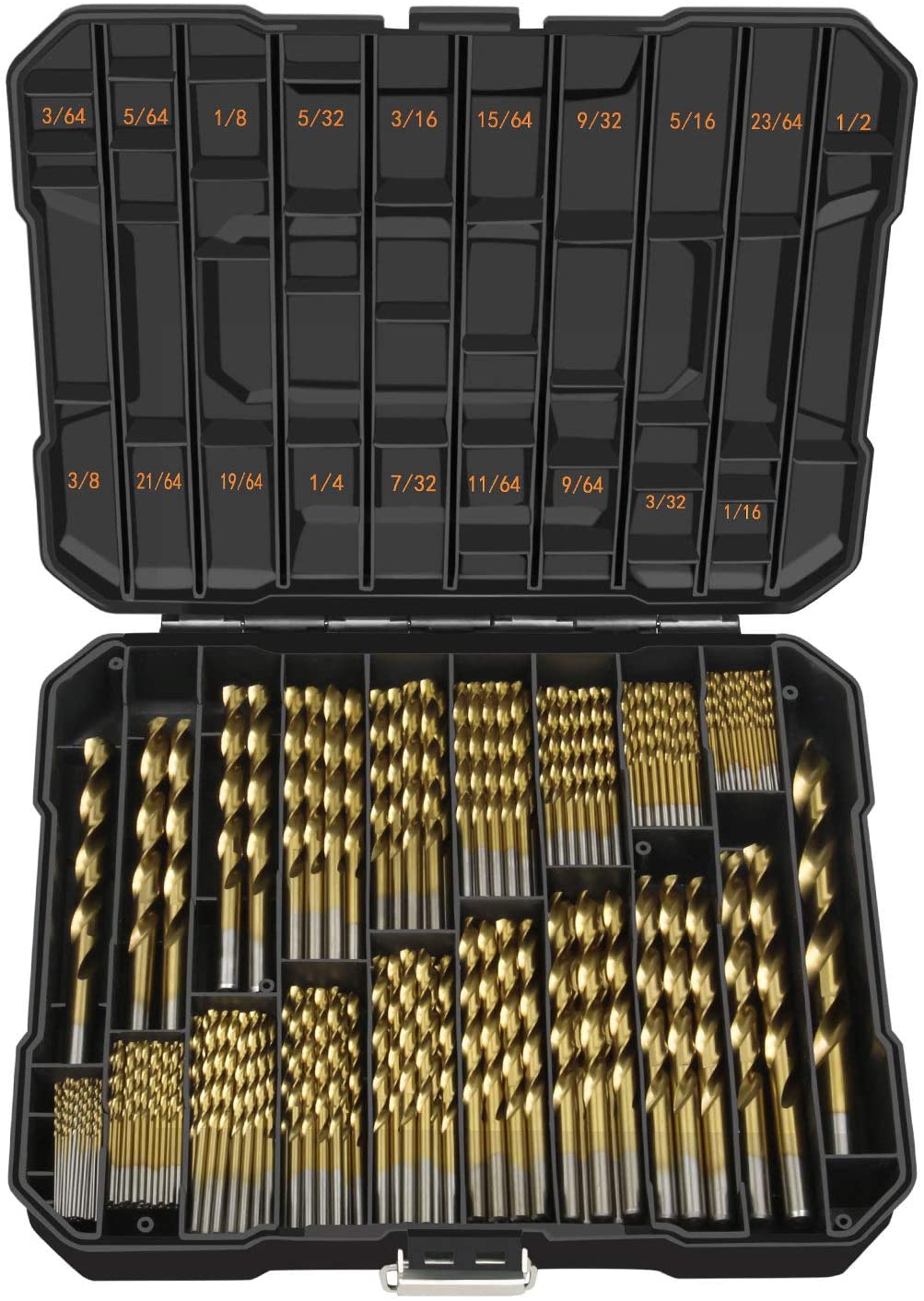 19. Headlamp
Working as a handyman, you'll sometimes have to work in low-light situations. It's important to have good lighting or else you can risk injuring yourself. That's why one of the best handyman tools you can have in your handyman toolbox is the headlamp.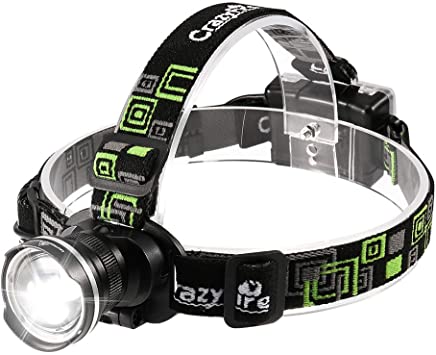 20. Putty Knife
The putty knife is used when glazing single glazed windows, to work the putty around the edges with the knife. This will probably be one of the few used tools in your handyman toolbox, but it's good to have for those special handyman jobs, like when you'll need to fix a broken window frame.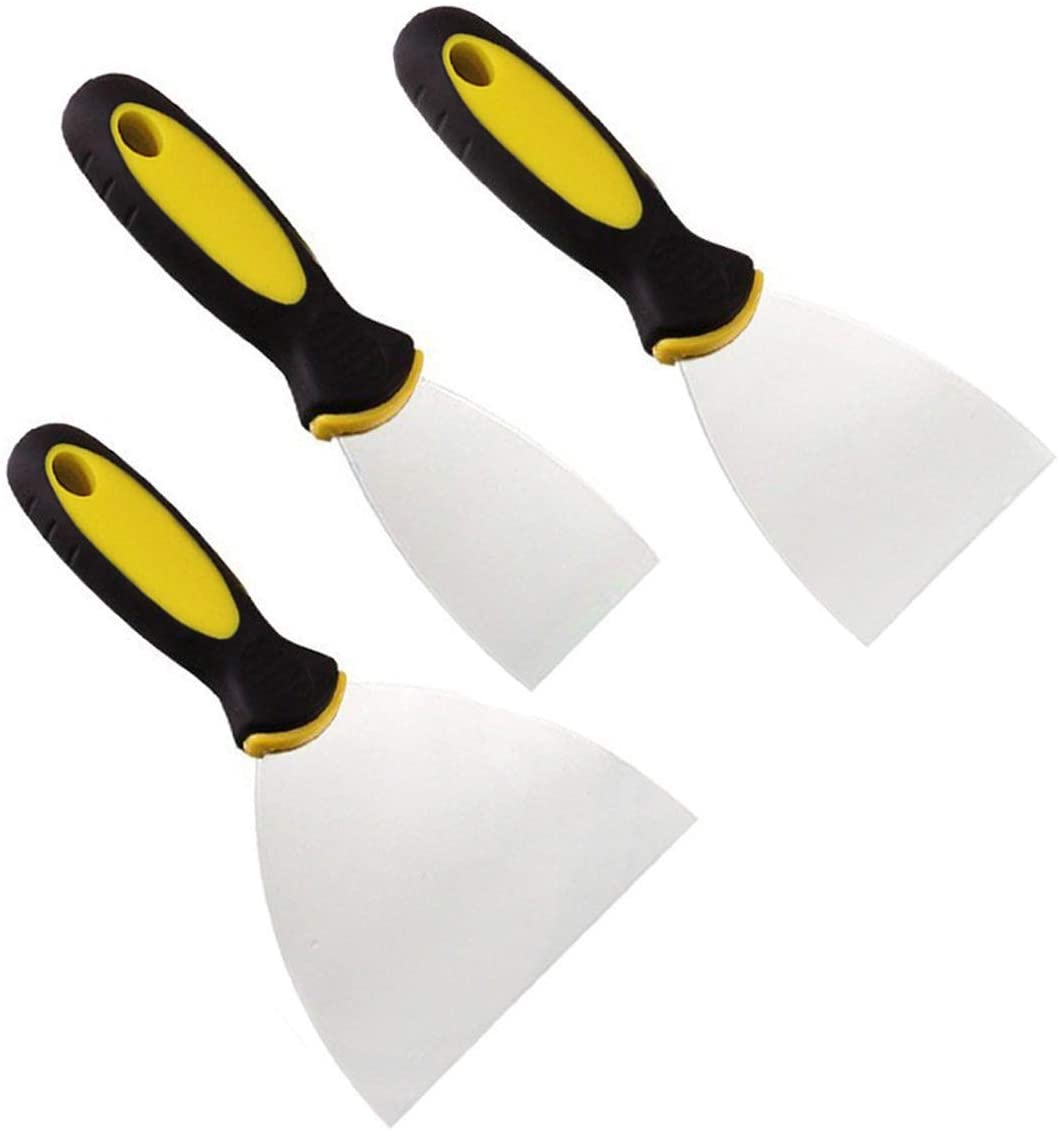 21. Utility knife
The utility knife is most certainly going to be into your top 3 most used handyman tools out there. Because you'll have to use it quite frequently, it certainly deserves to be in your handyman toolbelt, at hand.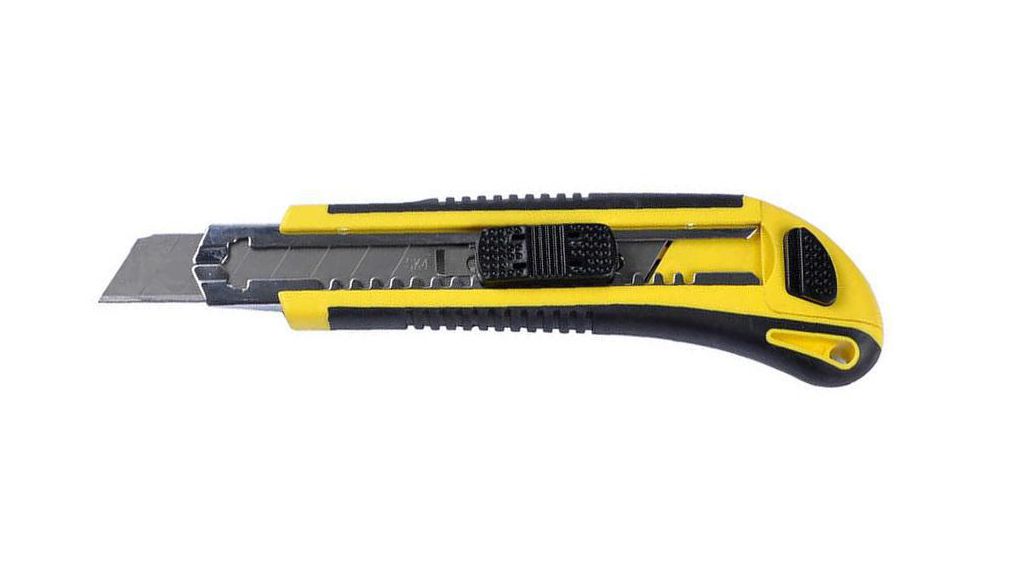 22. Tools storage
Although not a tool per se, an important item for your handyman business is the place where you store your tools. You don't need to have a lot of dedicated space for storing your basic tools, and for most of your handyman jobs a garage would be quite enough. A nice cabinet with dedicated drawer management for your handyman tools is the way to go.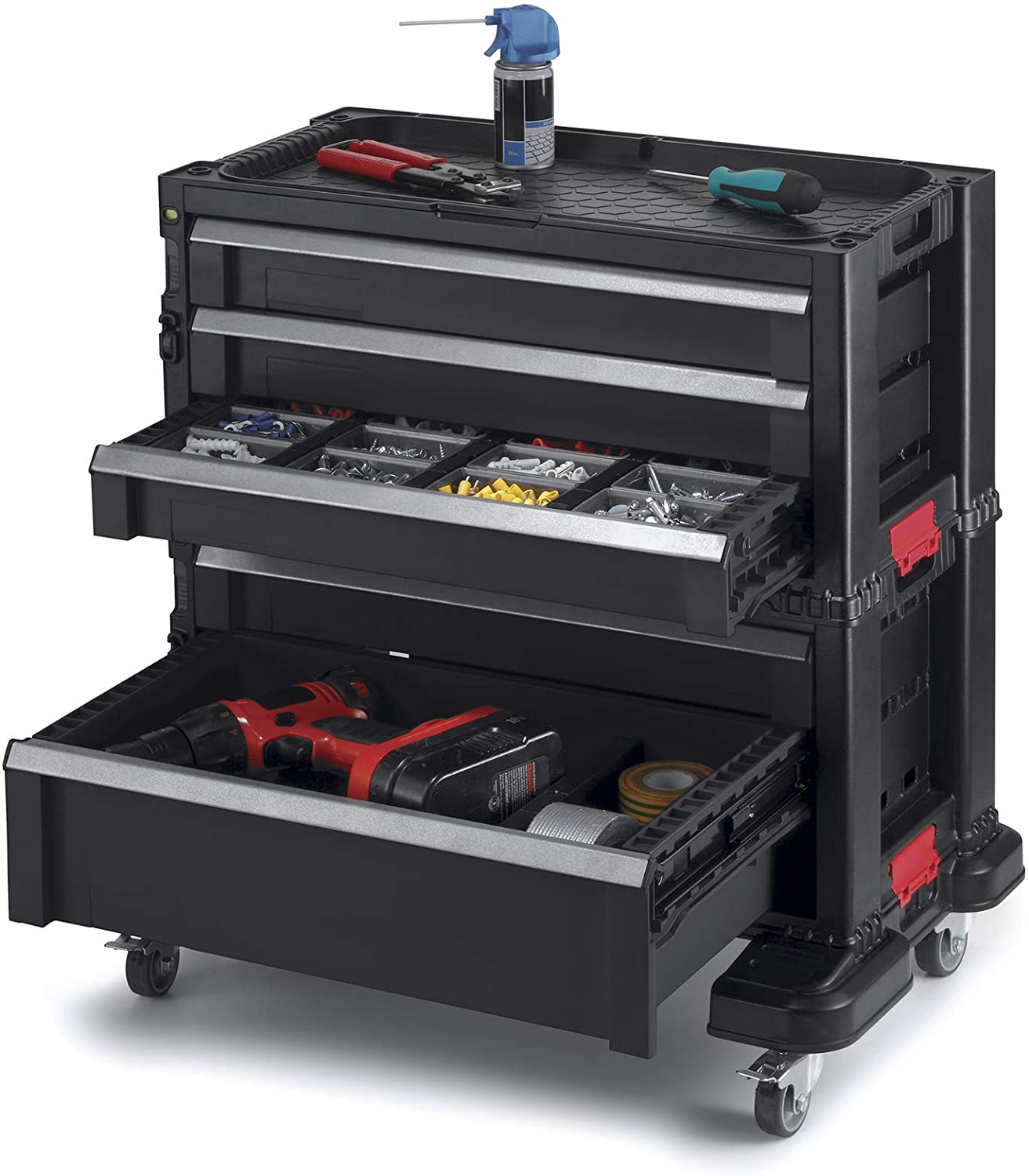 23. Cleaning equipment
As a handyman you won't have to worry about cleaning jobs, but what you'll have to do for sure is to do a little bit of cleaning after your work. Some simple home cleaning products and supplies (such as a shop-vac) should be enough to quickly clean after you've done your job. This is not absolutely necessary, but it will show to your clients that you're willing to provide a full service and are able to go the extra mile.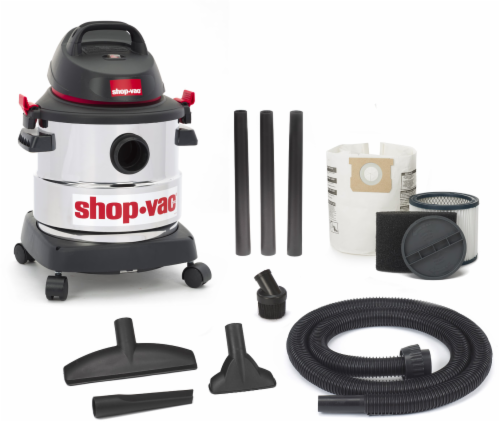 24. Cordless Power Tool Set
Mobility is extremely important as a handyman and having a cordless power tool set available can be really handy, especially if you don't want to carry around with you a lot of extension cables. And since as a handyman you'll need to make a lot of holes, mobility should rank high up in your league.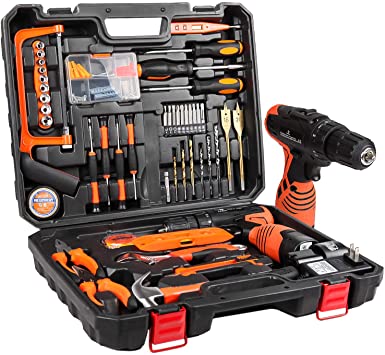 25. Tape measure
One of the most used handyman tools out there is the tape measure. Given the nature of the jobs you're most likely going to do, they're going to involve some kind of measuring. This must have tool for handyman needs to be part of every handyman tool box list as it's utility is undeniable.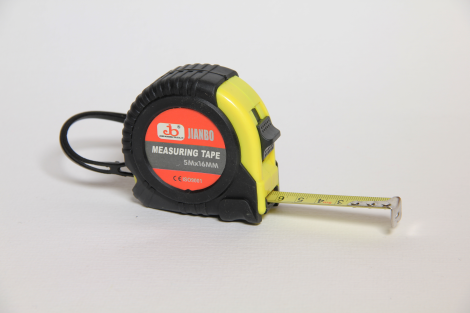 26. Wire Stripper Pliers
One of the handyman jobs you'll have to do is electrical. This means handling wires, sockets, electrical panels and the like. One of the most probable causes for light failure (except for the light itself) is bad wires. Having wire stripper pliers at hand can make your job much easier than trying to strip wires with a knife and having the chance of ruining them. So make sure you add this professional handyman tool to your arsenal.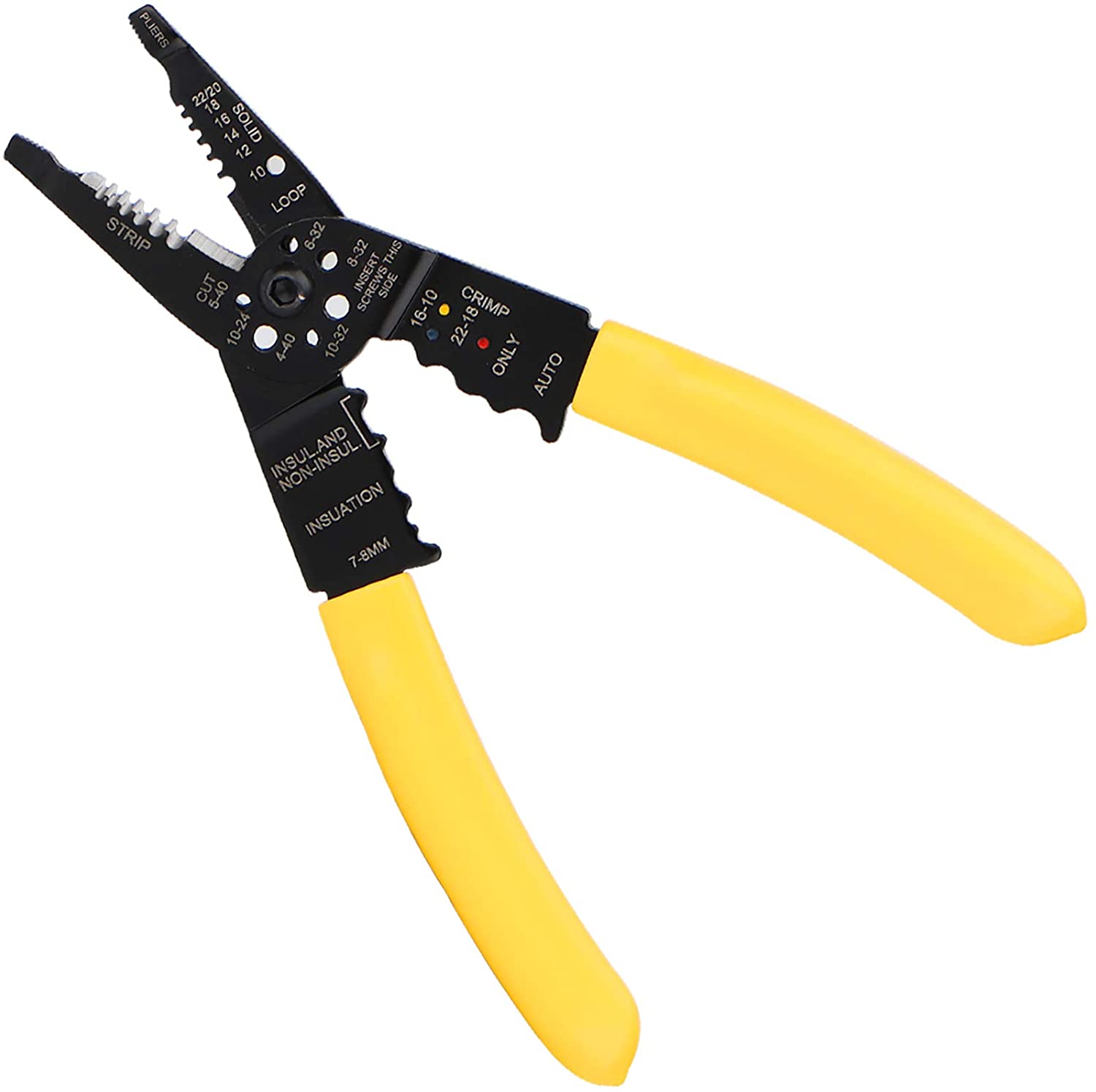 27. Painting supplies
After doing and finishing a job that required holes or anything that might ruin the paint, you need to have available some painting supplies in order to take your handyman business to the next level. In this way, you'll get to have happy customers and beautiful projects.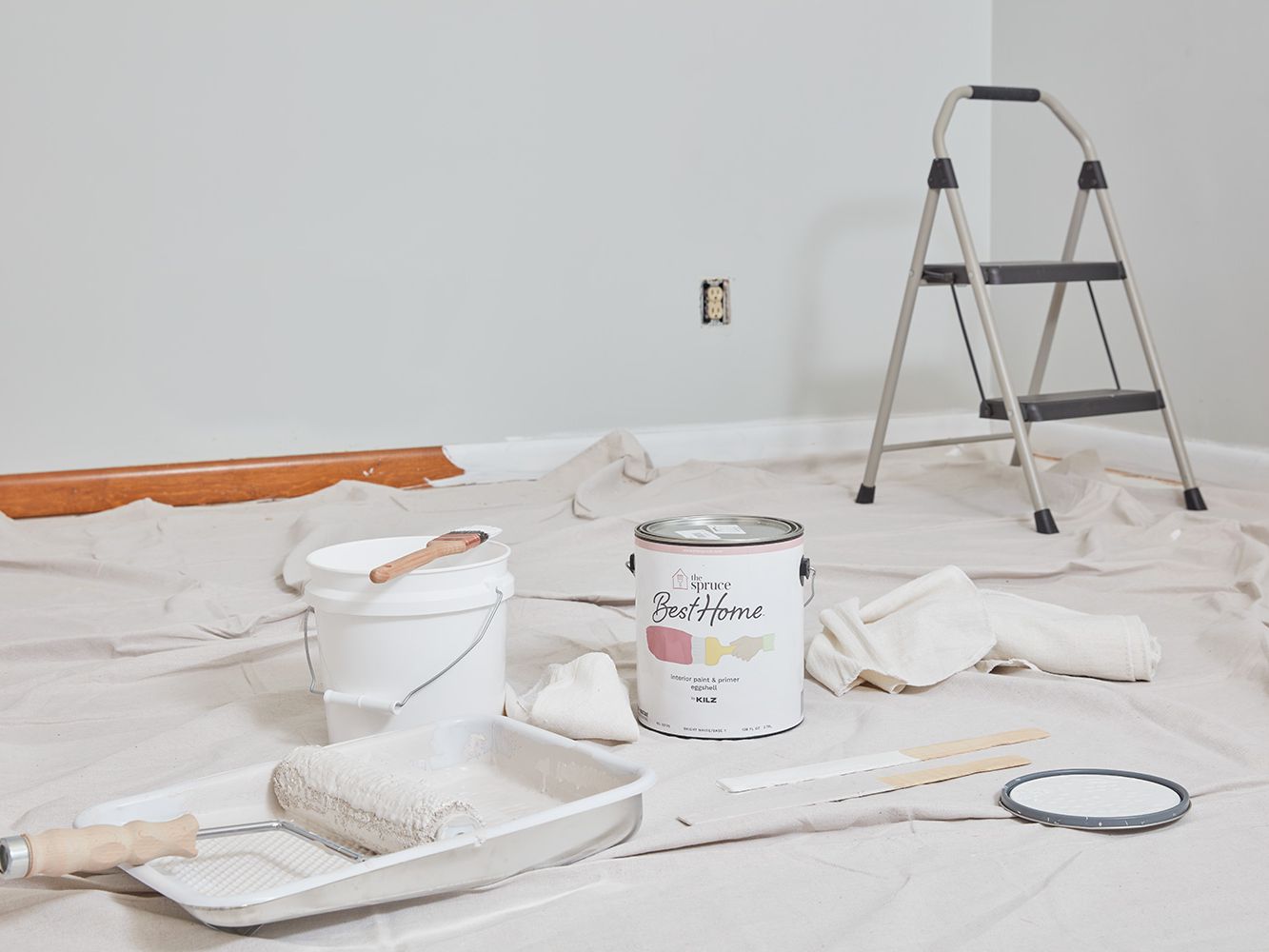 28. Tile trowel
Setting up new tiles for your handyman job isn't an easy task. Getting them all to fit perfectly requires having a dedicated tile trowel for the mortar, so that you can disperse it evenly for each tile. Don't forget to add the tile trowel to your handyman toolbox.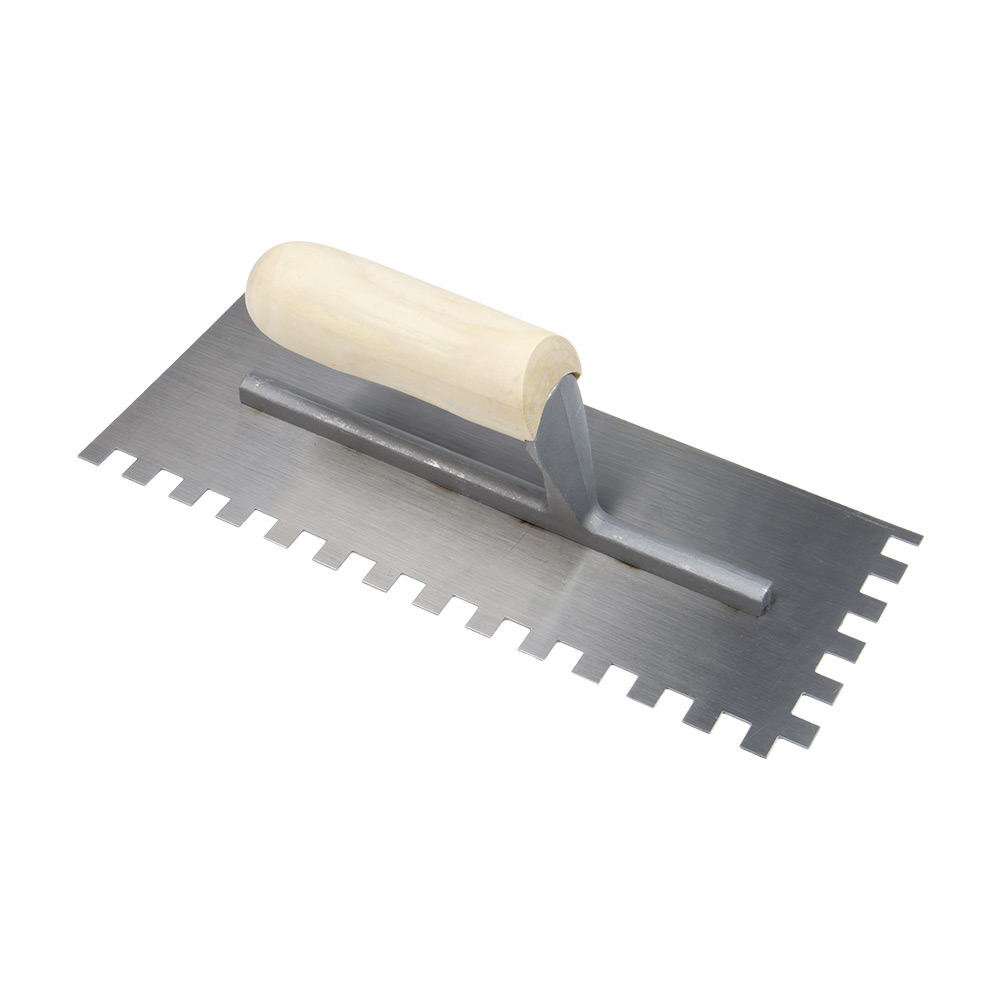 29. Grout float
Speaking of mortar, grout is a thin coarse type of mortar which is spread and pressed into cracks and tiles, in order to fill the empty space between the cracks or tiles. It's a useful tool to have in your handyman toolbox whenever you have a client that needs tile replacing.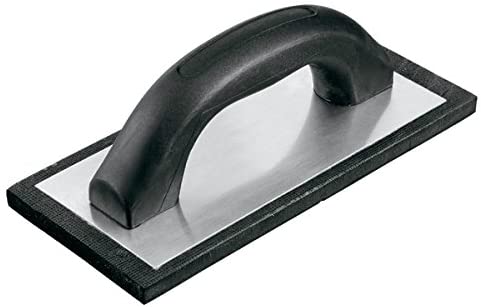 30. Angle grinder
For a handyman, the angle grinder is one of the most versatile handyman tools. It can be used to grind out metal or cut tiles, take the rust out of a piece of metal, and others. Make sure to add it to your handyman kit as it can save you a lot of hassle.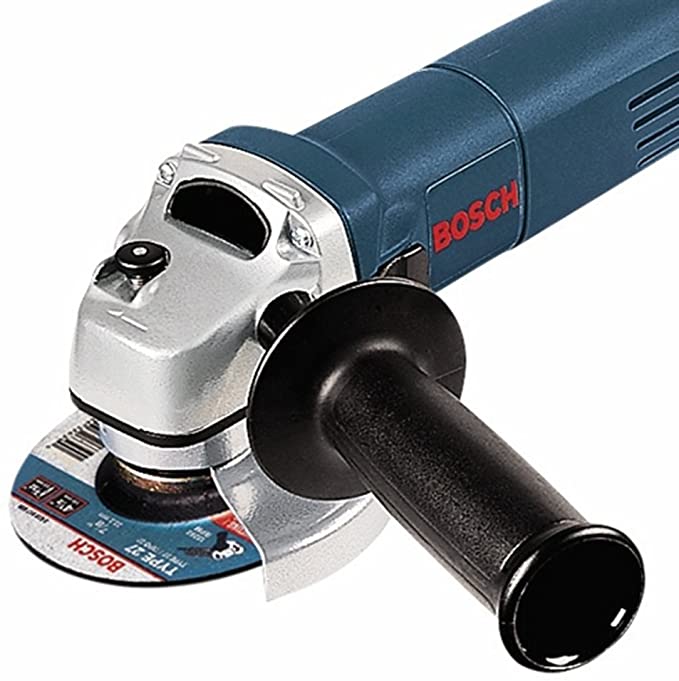 31. Fish Tape
The fish tape is used mainly for routing the electrical circuit through a building. But it is a very versatile kind of tool as it can help you route all sorts of cables and wires, not only the electrical ones.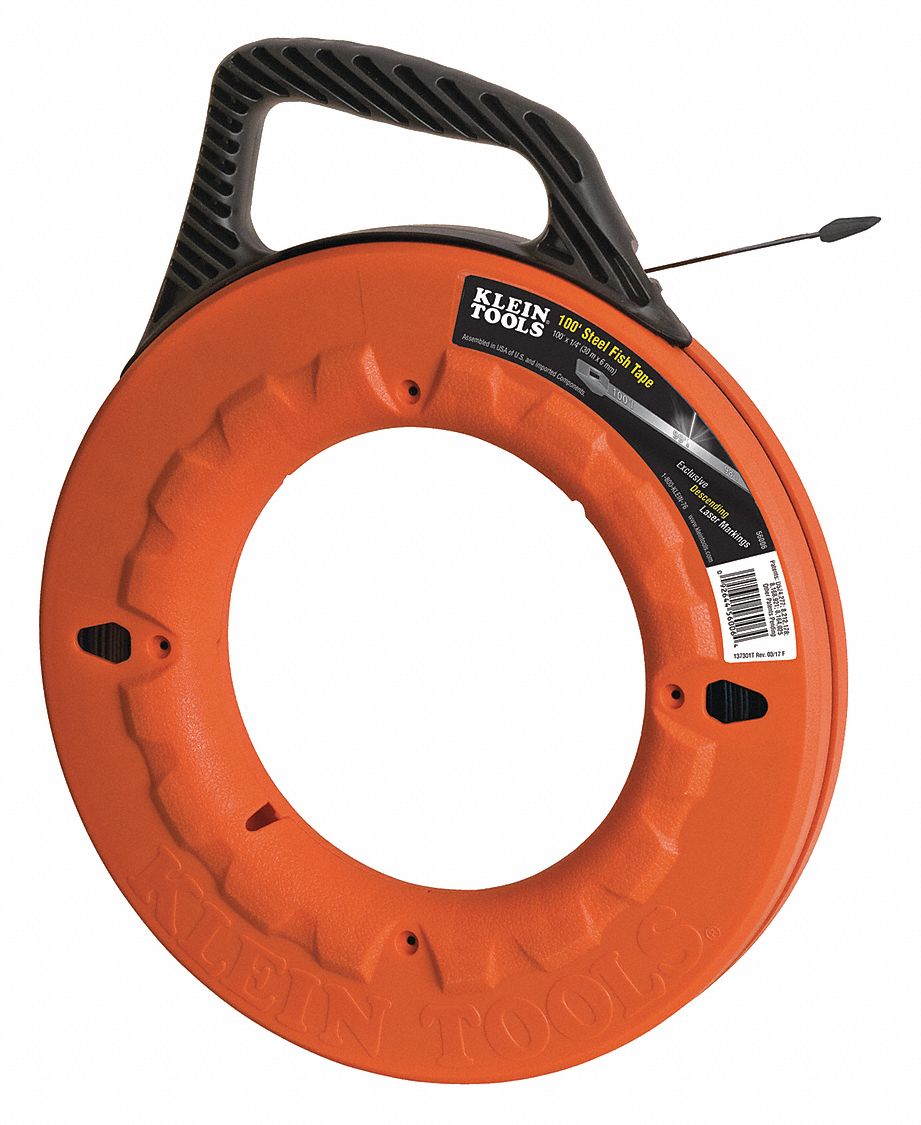 32. Electrical Tape
The electrical tape is also mainly used for electrical work, but it can be used (alongside the classical duct tape) for a variety of jobs. So make sure you add it to your handyman toolbox.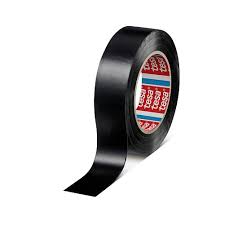 33. Hole saw bits
The hole saw is a saw blade that is of ring shape, used with power tools to create holes into various materials, in order to be able to pull through, for example, cables through a house. They don't occupy a lot of space and they can be of great use to them.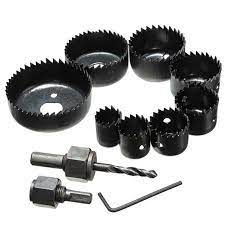 34. Safety Goggles
For a handyman (and any contractor in general), safety needs to be number one. Wearing safety goggles for your handyman business is extremely important, as all sorts of debris can jump out into your eyes, crippling you for life and severing your possibility to work again as a handyman. So that's why safety goggles should be part of your handyman toolbox.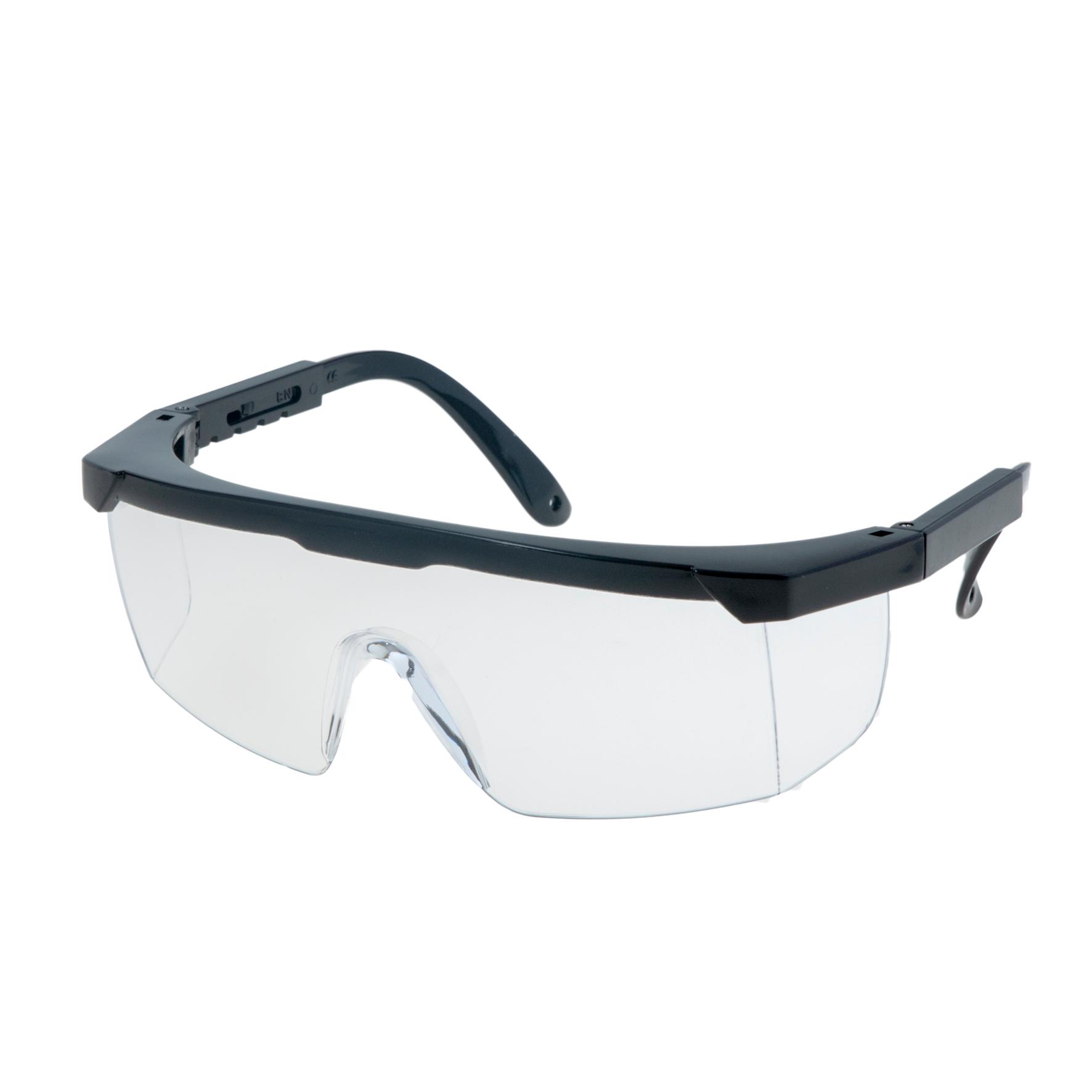 35. Stud Finder
Whenever you want to find the framing studs placed inside a wall (usually behind drywall), your best way of finding out is using a stud finder (either an electrical one or a magnetic one). Make sure you include the stud finder into your handyman tools.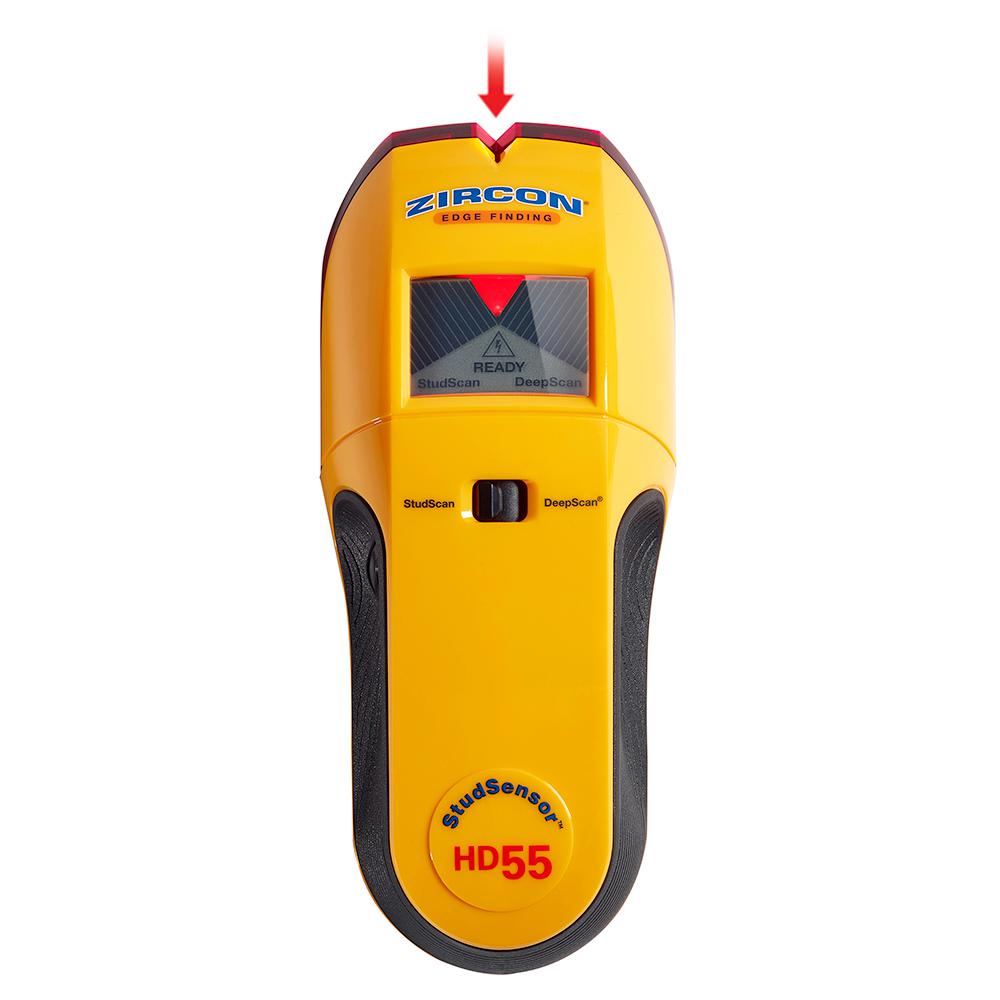 36. Marking utensils
As a handyman you'll have to do a lot of measuring and cutting, so you need to have at hand some marking utensils: sharpies, pens, pencils, etc. Make sure you add them to your handyman toolbox set as these are invaluable tools you need to have in order to properly do your handyman job with ease and efficiency.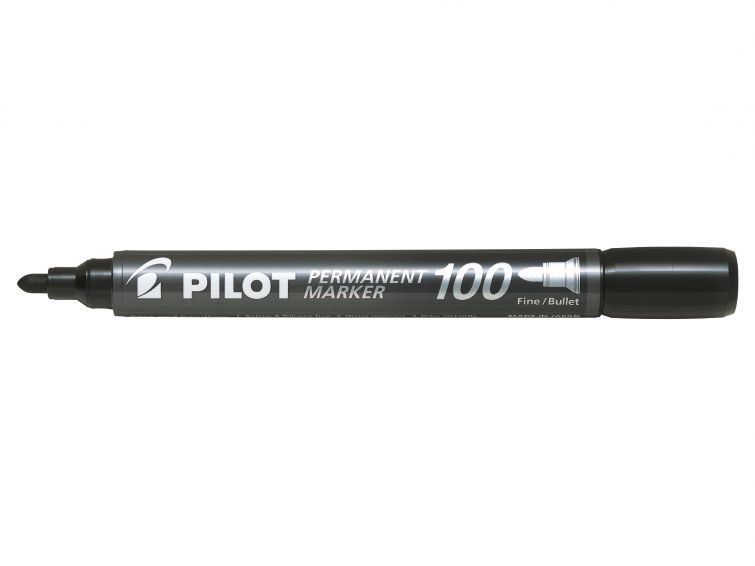 37. General liability insurance
Although not a tool per se, the general liability insurance is an invaluable item for a small business / independent contractor. It can help your handyman business cover for medical expenses or attorney fees in case of bodily damage or property damage. So make sure you look into general liability insurance, one of the most unique tools for handyman.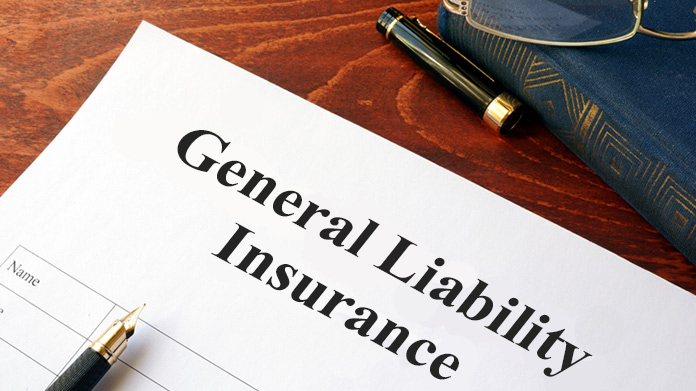 38. Finish nailer
An important addition to your handyman toolbox, especially for those of you who work often with wood, is the finish nailer. A close second is the brad nailer, but selecting between the two depends a lot on the type of projects you do. But for attaching finishing materials to your handyman work, the finish nailer is the way to go (and, the cool thing is that finish nails are more readily available, from different manufacturers too, than brad nails). So make sure you add the finish nailer to your professional handyman tools.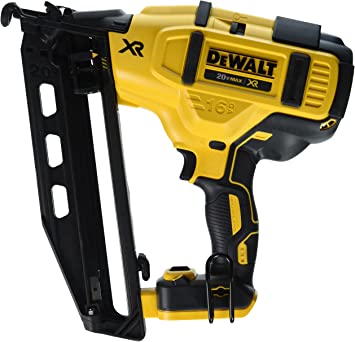 39. Framing nailer
Although chances are you won't get to use framing nailers as often as a finish nailer (because most of its use cases come while building a house), a good framing nailer is nice to have at hand whenever a special case arises, so make sure you keep one close whenever needed.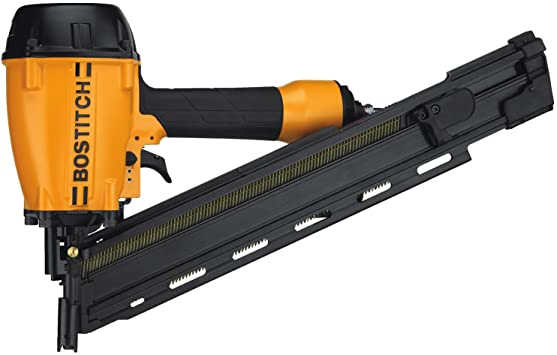 40. Electrical tester
As the job description says, a handyman will probably do some electrical work as well. It might even be one of your most asked for jobs, to be honest. That's why having at hand an electrical tester is a must for troubleshooting the electrical work of a house, so be sure to add it to your handyman tools set.
41. First aid kit
The last of our handyman tool box list is the first aid kit. As a handyman, you'll get to improvise and handle special jobs that you've maybe never done before. Some of these jobs might require some trial and error until gotten right, which unfortunately might mean some injuries. That's why we suggest having at hand in your handyman kit a small, but invaluable, first aid kit.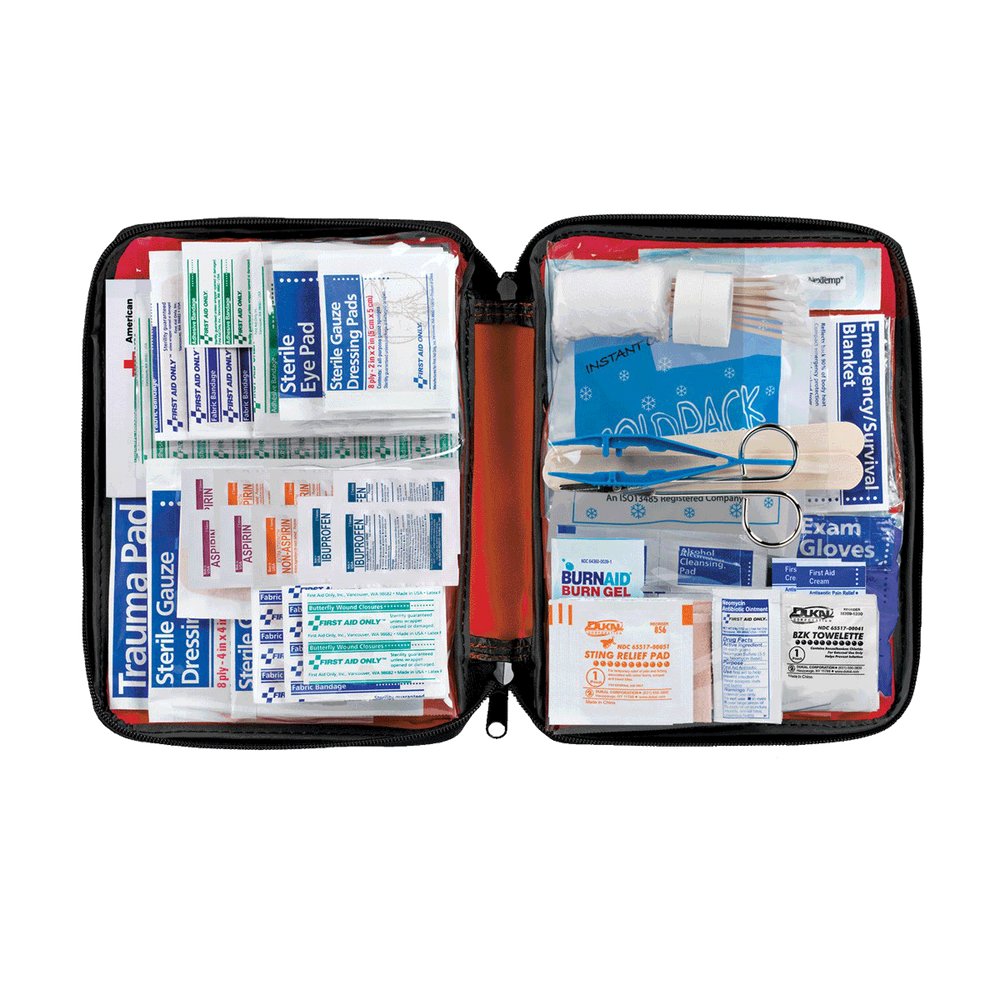 We hope that this comprehensive handyman tool box list will help you get an idea of the necessary tools you'll need as a handyman while you do your jobs. Not all of these are necessary at all times, and the most important thing for you is to select from our handyman tools list the best fit for your needs.
Also, you can see what benefits a job scheduling app like FieldVibe can bring you at this link.
Handymen also read: